RE
Religious Studies
Topics
There are two parts to the course:
1. Religion: peace and conflict
Christian beliefs

Crime and punishment

Living the religious life
2. Religion and Ethics through Islam
Beliefs

Marriage and the family
Living the religious life

Matters of life and death
Approach
The qualification encourages students to engage with a wide range of concepts and materials to enable them to interpret, contextualise and analyse the expressions of religions and worldviews they encounter with confidence.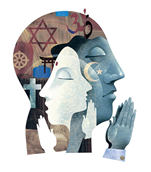 Assessment
This subject is assessed by two examinations each 1 hour and 45 minutes. There is no controlled assessment.
Further Education and Career Opportunities
GCSE Religious Studies is a useful stepping stone to further educational opportunities. It is a relevant qualification for many careers such as medicine, law and order, media, personnel, community work and any career which involves working within a multi-cultural environment.
To be successful on this course you should
Be fascinated by the power of belief to influence almost every aspect of people's lives

Be able to understand and relate to people whose beliefs, values and viewpoints differ from your own

Enjoy analysing and discussing controversial issues