Post 16 Providers/Employers
Uppingham Community College believes in giving FE, HE, training/apprenticeship providers and employers the opportunity to talk to students at the school. We welcome the opportunity to work with the wider community to enhance our Careers and post-16 provision for all of our students across all year groups. If you would like to offer your services or get more involved in our provision then please contact Mrs Clare Duffy, Assistant Principal at the school. Further details can be found in our 'Provider Access Policy' below.
Beauchamp College will soon be sending out offer letters to students.
This will be a conditional offer, and once accepted it will trigger an invite to a Course Guidance Meeting. These meetings have no bearing on whether or not students maintain their offer of a place. Instead, we use the one-to-one meeting to check that students' choices are in line with their strengths and Post 18 aspirations, and it provides us with an opportunity to build on the support and guidance students have had within school.
Even though the deadline has passed, we are still accepting applications from students, so please continue to apply.
Brooksby Melton College
See attached flyer about the apprenticeships on offer at SMB Group (Stephenson and Brooksby Melton College)
ESPA (Eastern School of Performing Arts)
For anyone considering training in the performing arts. Please see more information at the bottom of this page (including a link to their virtual student experience)
Please find our 'What Happens Next' flyer attached at the bottom of this page - giving details about the application process and beyond
Why not take advantage of our virtual 'small group' sessions for students who may benefit from working within a smaller, informal group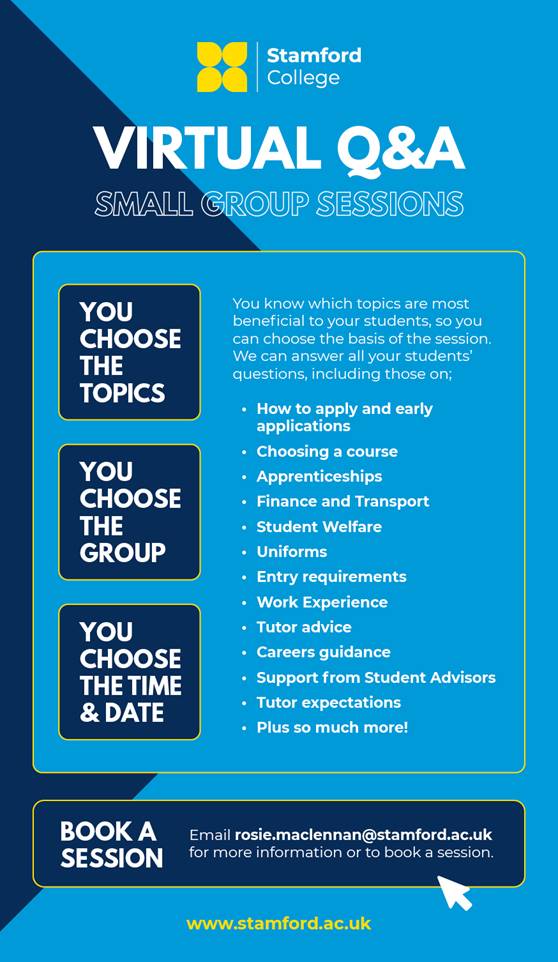 Missed our Life at WQE webinar? Join the next one...

The online event will give you the opportunity to chat to our staff and students. Learn more about our courses, specific entry requirements and what it's like to study at WQE.
Join us on Wednesday 10th February 2021 at 11:00am.

Apply for WQE now for September 2021 - see the attached document at the bottom of this page
We are pleased to be able to provide you with a virtual post-16 open evening experience. In the attached PowerPoint you will find information about the majority of our post-16 providers along with further information links to help guide your research. Please support your child in accessing these sites and researching their study options after UCC. All year 11 students will then receive an interview with our Careers Advisor in November to help consolidate their choices.
This year's WorldSkills event will be online. This is a useful event which students from Yr10 and 11 can attend to learn more about career options and apprenticeships. Whilst two of the days are during school time, the third day is Saturday 28th November and includes a range of interesting sessions. You can register your interest on the website, please click on the link below:
https://www.worldskillsuk.org/directions/worldskills-uk-live-online/spotlight-talks-on-careers-apprenticeships-and-technical-education-in-partnership-with-bae-systems
ESPA:
Have a love for Dance? Musical Theatre? Considering continuing your education in an area you are passionate about?
Eastern School of Performing Arts offer Level 3 programmes, equivalent to 3 A Levels in either Dance or Musical Theatre. Be taught by industry professionals, in a practical environment with like minded people. Students go on to some of the top drama/dance schools in the country, along with going on to study at university.
Eastern School of Performing Arts also offers a Higher National Certificate/Higher National Diploma in Musical Theatre - whether you need an extra year of training before applying to drama school (HNC) or want to complete the first 2 years of your degree (HND) in a vocational environment, there is something to suit all needs.
Our course coordinators discuss each of the programmes in the videos below, and you can participate in free online taster sessions, and hear from our current students by joining the Virtual Student Experience
on our website.
You can also view content on our social media platforms.
Should you require any further information, please do not hesitate to contact us!
(01780 767696)
Careers in the Army:
Please take the opportunity to look at the online guides and videos linked below:
Reserve and Regular Army Jobs:
Veterinary Officer
Veterinary Nurse/Technician
Dog Handler
Army establishments:
Royal Army Veterinary Corps (with video)
Defence Animal Training Regiment Melton Mowbray (Dogs and Horses)
Army Medical Services (with video. The RAVC comes under AMS)
Videos:
MWDs in Jordan
MWDs in Afghanistan