Post 16 Providers/Employers
Uppingham Community College believes in giving FE, HE, training/apprenticeship providers and employers the opportunity to talk to students at the school. We welcome the opportunity to work with the wider community to enhance our Careers and post-16 provision for all of our students across all year groups. If you would like to offer your services or get more involved in our provision then please contact Mrs Clare Duffy, Assistant Principal at the school. Further details can be found in our 'Provider Access Policy' below.
New College Stamford
Why not take advantage of our virtual 'small group' sessions for students who may benefit from working within a smaller, informal group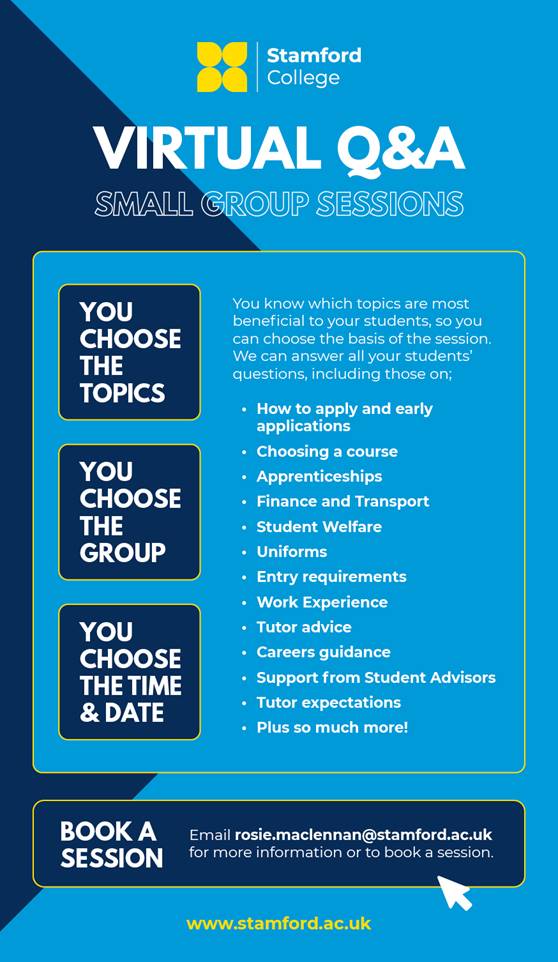 We are pleased to be able to provide you with a virtual post-16 open evening experience. In the attached PowerPoint you will find information about the majority of our post-16 providers along with further information links to help guide your research. Please support your child in accessing these sites and researching their study options after UCC. All year 11 students will then receive an interview with our Careers Advisor in November to help consolidate their choices.
This year's WorldSkills event will be online. This is a useful event which students from Yr10 and 11 can attend to learn more about career options and apprenticeships. Whilst two of the days are during school time, the third day is Saturday 28th November and includes a range of interesting sessions. You can register your interest on the website, please click on the link below:
https://www.worldskillsuk.org/directions/worldskills-uk-live-online/spotlight-talks-on-careers-apprenticeships-and-technical-education-in-partnership-with-bae-systems