Geography
Aims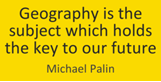 Geography explains the world around you. From countryside to global issues Geography tackles the big questions: environmental responsibility; our global interdependence; cultural understanding and tolerance; and commerce, trade and industry. Geography gives you an understanding of the world in which we live. Without Geography you are nowhere.
Approach
A variety of teaching and learning approaches are used to help students learn a wide range of skills, ideas and knowledge. We encourage students to investigate and analyse. The successful student will develop an increased interest and curiosity in the world around them.

T
Topics
The course brings the study of Geography to life by exploring key themes and contemporary issues in the context of real places.
You will study:
● Living in the UK Today: Landscapes, People and Challenges● The World Around Us: Ecosystems, Population and Environmental Threats
● Geographical Skills: Geographical Skills and Fieldwork
Assessment
The student's knowledge, understanding and skills are assessed in three ways:
1. Living in the UK Today 1hr 30%
2. The world Around Us 1hr 30%
3. Geographical Skills and Fieldwork 1hr and 30 mins 40%
Further Education and Career Opportunities
What do you want to be? Enjoy studying Geography? You are more likely to get a good exam result in a subject you find interesting and Geography can literally take you places. Any aspect of a Geography course could launch you into a career; interested in the environment and ecosystems? You could become a conservation manager or work for the Environment Agency. While this may be a direct use of your geographical studies, other employers (e.g. marketing and financial services) will look for the problem-solving, analytical and team working skills taught through Geography. So Geography as an exam option can not only take you to many places around the world; it can also open up far more career opportunities than you could possibly imagine.
To be Successful on this Course you will
Be interested in the world around you
Enjoy exploring current global issues

Be able to work individually and in small groups