Autism Education Trust

We are pleased to be able to offer training as a partner of the Autism Education Trust.
Why is autism training important for educational settings?
According to the latest SEND statistics from the Department for Education, which are based on the school census, there are over 160,000 autistic pupils in schools across England. Over 70% are in mainstream school, with the rest in specialist education, home educated or out of education altogether.
The number of pupils with an EHC plan has risen by 10% to 325,600 in 2021. The number of pupils with SEN support has increased by less than 0.5% to 1,083,100. The most common type of need among pupils with an EHC plan is Autism, with 92,600 pupils (30% of all pupils). Special educational needs in England
According to the latest figures from the Department for Education, autistic pupils in England are twice as likely to be suspended from school for a fixed period as pupils with no special educational needs. Permanent exclusions and suspensions in England
Why Autism Education Trust (AET) training?
The Autism Education Trust (AET) is a not for profit programme led by two national autism charities – the National Autistic Society (NAS) and Ambitious about Autism (AaA). AET works to improve educational access, experience and outcomes for autistic children and young people. AET training is underpinned by current research into good autism practice and developed alongside a panel of autistic young experts. The AET programme is structured around the three education phases – Early Years, Schools and Post 16.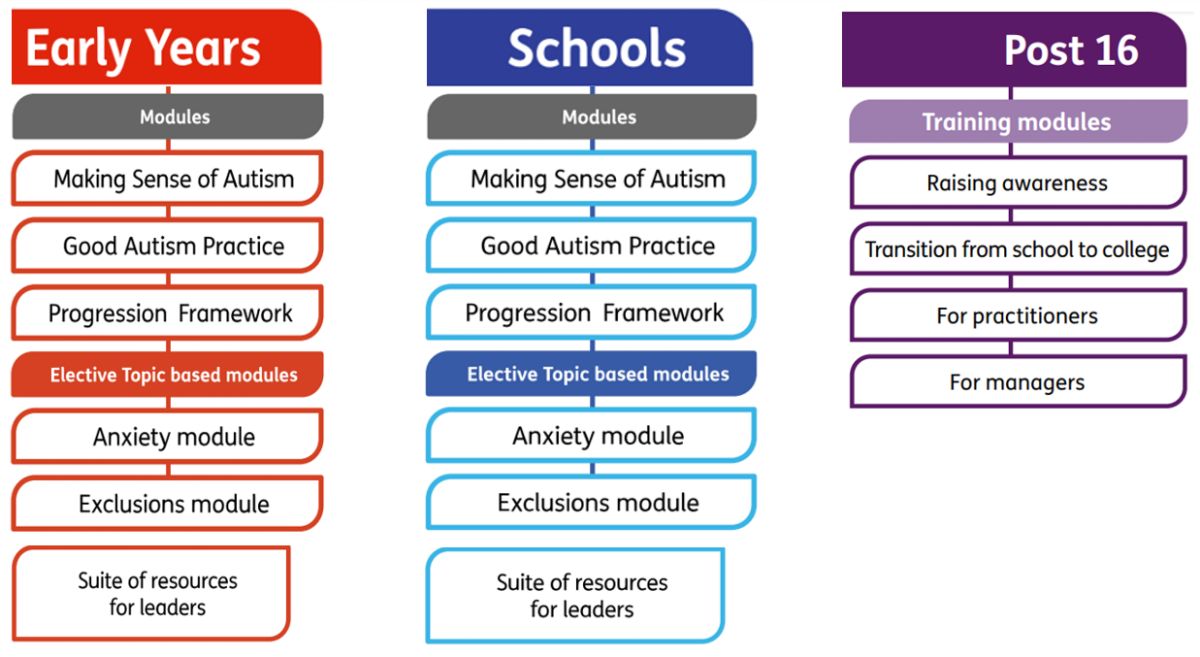 This is a 90-minute raising awareness module for anyone working in schools. This includes teaching and support staff, office and ancillary staff, caterers, caretakers, transport staff and governors.
This is a module for practitioners who work directly with autistic children or young people, and it provides guidance on processes and tools that can help practitioners to implement good autism practice.
This module introduces the Progression Framework which is an interactive assessment tool that helps identify learning priorities, set key learning intentions, and track progress for autistic pupils. These learning priorities focus on non-academic outcomes, such as developing skills around communication & interaction, social & emotional understanding, sensory processing and learning & engagement.
This module will support you in gaining an understanding of what we mean by anxiety, how it appears in autistic children and young people, what the key triggers are and what you can do to support autistic pupils to prevent and reduce anxiety
This module on autism and exclusions will support delegates to explore key causes of an autistic child or young person being excluded from school and how teaching staff can prevent exclusion occurring, or when it does occur, provide support for the pupil's successful return or transition to their next placement.
This module helps leaders to understand what is needed to fully embed an inclusive culture. It looks at educational legislation guidance surrounding inclusion, the steps required to lead culture change and the importance of considering structural reasonable adjustments and AET resources designed to support leaders with this
Recommended frequency of autism training for educational settings
Leicestershire, Leicester City and Rutland educational settings (Early Years providers, schools and Post-16 provisions) are strongly encouraged to maintain an upskilling of their staff to enable them to best meet the needs of current and future autistic learners.
It is recommended schools access and update their Autism Education Trust training on at least a 3-year basis. This includes Making Sense of Autism training for all staff, Good Autism Practice training for practitioners working directly with autistic pupils and Leadership training for Sencos and/ or Senior Leaders.
For further information please email senco@ucc.rutland.sch.uk