Additional learning activities
There are a wealth of learning activities that our students can engage with beyond what their teachers set.
These two resources can be accessed by students wishing to push themselves a little further, or who are finding the generic online work set by school not challenging enough. The links to the resources are below:
These two platforms provide daily lessons with video tutorials and activities and the feedback on them so far seems to be positive from teachers around the UK.
Plus, there is a wealth of other curriculum and non-curriculum activities available that are listed below, although please note that these are all over and above the work being set on 'Show my Homework,' and we aim to provide things that are a bit fun and different to fill some of your time at home. Where possible the links are listed under the most relevant subject heading:
Humanities:
Some great Geography resources to keep you busy this week: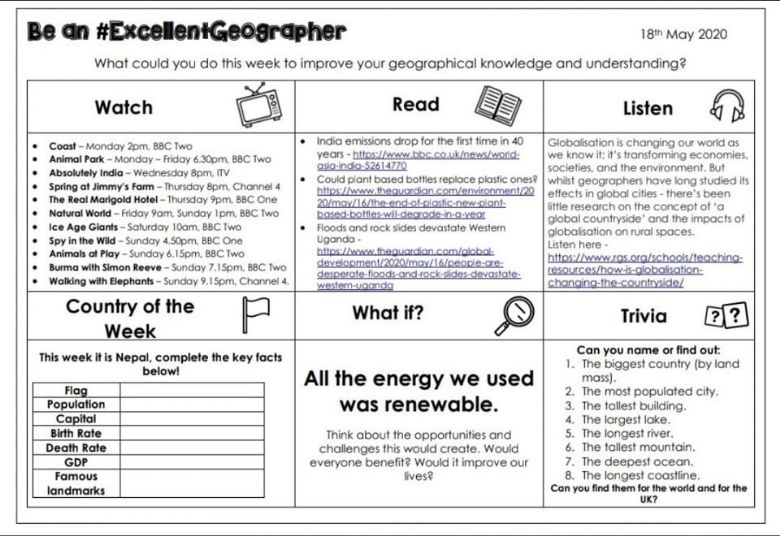 The Humanities team have shared this resource from @GFASouthwold Live webcams from around the world. They love Svalbard and Copacabana Beach; not so keen on the Reykjavik car park view. Thanks for sharing....
https://twitter.com/GFASouthwold

Are you interested in seeing the Northern Lights or scanning the Namib desert dunes from your own home? Here are 10 of the best natural wonder virtual tours. Explore our world.
https://www.theguardian.com/travel/2020/apr/06/10-best-virtual-tours-of-worlds-natural-wonders-everest-patagonia-grand-canyon-yosemite?CMP=share_btn_tw
If you are looking for a fun way to get to know the countries and flags of the world then why not follow the link for an excellent free downloadable resource?
https://www.nationalgeographic.com/maps/world-coloring-map/?fbclid=IwAR38cUcocw_3l3uYpMhdOBtTfIsR6rGcH04yrNYGgSLch9wUySdsXY59Fu0
An excellent resource here from Mr Heppell. It would be great for lots of UCC students to sign up to this! Take a look and sign up to the (free and daily) 'The Day Home Newsletter'. News and activities for parents and educators to share and discuss with young people aged 5-18.
https://theday.co.uk/subscriptions/the-day-home?fbclid=IwAR2nAahYslmUQfiok4N0GdGrGeJ3P-nfRhd7EstCk1rXxYxobRWjwgxkoD8
Wow! This is an incredible website... live webcams of nature around the world. Amazing!
https://www.explore.org/livecams
Some amazing history talks from a variety of military historians every Wednesday evening
https://www.danhillmilitaryhistorian.com/historyfromhome
Y8 were supposed to be going to IWM Duxford for Ace day 3 in July. This has been cancelled but why not have a virtual walk around Duxford using the link:
https://www.google.co.uk/maps/@52.0931526,0.1273829,3a,75y,239.96h,92.55t/data=!3m6!1e1!3m4!1s8t3su0EOhujI6bTO-S0d3A!2e0!7i13312!8i6656?hl=en
Another amazing website to explore for all things Humanities whilst at home. The tour of Angkor Wat Temple, Swim through a coral reef and How does 1780s fashion influence fashion today?https://artsandculture.google.com/
Get your history fix here!
https://tv.historyhit.com/signup/package
Mindfulness, learning and fun. Check out these free maps to download and colour from Ordnance Survey.
https://getoutside.ordnancesurvey.co.uk/guides/free-maps-to-colour-in/?utm_campaign=2639917_GetOutside%20Inside%202&utm_medium=email&utm_source=Ordnance%20Survey%20Leisure%20Ltd&dm_i=2I1H,1KKZ1,9K24FI,5BJVM,1
English/Drama:
The Globe Theatre are the latest theatre company to start streaming plays online - some are free to view and some are paid for - please click on the link below:
https://globeplayer.tv
Scholastic, JK Rowling and Audible have teamed up to provide students across the UK with the 'Harry Potter at Home Hub'. It includes a free audible/ebook download of the first book and a platform for you to complete games, quizzes and activities and lots more.
https://www.wizardingworld.com/news/introducing-hp-at-home
As well as all the work that is being set on show my homework we are sure you may have more time to kill than usual so hope you manage to make use of some of the 'extras' we are sending out. The English team will be delighted if you've taken this opportunity to read a more diverse range of books. Here is a link Mr Solly sent through where you can get online access to some classic literature
https://freeclassicebooks.com
For our KS3 students or for parents with younger children, let David Walliams take over at 11am each day! Head here to hear David reading an audiobook every day.
https://www.worldofdavidwalliams.com/elevenses/
Are you missing the arts? Let the arts come to you....You can stream live theatre every Thursday from the National Theatre:
https://www.nationaltheatre.org.uk/at-home
Art/DT:
Some great arts games and challenges from Tate:
https://www.tate.org.uk/kids/games-quizzes/cuboom
The #louvre is opening it's virtual doors. Not only can you see the collection, but there are loads of activities:
https://www.louvre.fr/pour-les-enfants
Maths:
A great resource from our Head of Maths Mrs Martin, for Y11 students that are hoping to study maths at A-level and something for our Y0 students who are considering maths for post 16:
https://amsp.org.uk/resource/gcse-alevel-transition-resources?fbclid=IwAR0LjeVNG_xIt5YySCn14u4ApROU6SGzgeHpN0qFcputgb078Jj3hUiPoUI

Thank you to Mr Jones for sharing these short Youtube 'Maths4Real' videos. Bringing maths to real life situations:
1. Percentage Changes
https://www.youtube.com/watch?v=whdUnTfLSWE
2. Standard Form
https://www.youtube.com/watch?v=47g_iy0TKmU
3. Ratio & Proportion
https://www.youtube.com/watch?v=3se70BM3kQI
4. Straight Line Graphs
https://www.youtube.com/watch?v=Y2VjyE0jQfI
5. Distance/Time Graphs
https://www.youtube.com/watch?v=LzV5UomouDw
6. Pythagoras' Theorem
https://www.youtube.com/watch?v=C5tDEQyCbQw
7. The Sine Ratio
https://www.youtube.com/watch?v=zHO1vMHwB-Q
8. Bearings
https://www.youtube.com/watch?v=t_O9fcFlrZw
9. Questionnaires
https://www.youtube.com/watch?v=CnPNyN5jI9k
10. Combined Probability
https://www.youtube.com/watch?v=OZANZhO9BMc
Get your history fix here!
https://tv.historyhit.com/signup/package
Mr Jones has found some daily maths conundrums that you might like to challenge yourself with!
https://corbettmaths.com/more/corbetts-conundrums/
PE:
Keep up your fitness levels with daily workouts (plus past workouts you can choose from) head to Joe Wicks You Tube channel:
https://www.youtube.com/channel/UCAxW1XT0iEJo0TYlRfn6rYQ

If you would like to keep up to date with your rugby skills then please click on the following link to see a message from Anthony Watson and some drills from the Williams brothers thanks to Verulamians R.F.C.
https://www.verulamiansrfc.club/1st-team-updates/keeping-the-kids-engaged-with-rugby-during-lock-down-at-home-drills?fbclid=IwAR1CQ1cCpWb35Foh80wtjB-kRMYMQHfy96xXikbpSF47kUTTxcpEFEHKgBI
General Interest:
Some great resources here for our Y10 and Y11 students, masterclasses and also info about different aspects of university life, from The Brilliant Club:
Chemistry Masterclass - Glow in the dark drugs:
https://www.youtube.com/watch?v=p1Hg917-cws
Literature Masterclass - Why didn't medieval women take selfies?
https://www.youtube.com/watch?v=P-35AYR4_jA

History Masterclass - how do People and Communities Rebuild their Lives after Disaster:
https://www.youtube.com/watch?v=7uaR_FqfGKo&t=2s
History Masterclass - Law and Order in Medieval Towns:
https://www.youtube.com/watch?feature=youtu.be&v=ivdHKwb2EZ4&fbclid=IwAR36iAhKwtrkdro4BxEYe-lQ2DvuYkY5PupV-UyDjvYEaE9dWZgiv9M5WcQ&app=desktop
Life at Uni Series:
https://www.youtube.com/watch?v=8up5XZ62-vA
An introduction to money and budgeting at University:
https://www.youtube.com/watch?v=rA9DczcfP_Q&fbclid=IwAR1O_qbhjuHV7x6kR9-6d4XX2JwfTgwu-OsITu5a3ooB7O_6GkdPJ7UkPoA&app=desktop

Study Skills - How to design a Research Question:
https://www.youtube.com/watch?v=hIIaurcgrr0&feature=youtu.be&fbclid=IwAR1uWFKvxHbhJhwLfEvLzcUi-a7kz93P_-VFyt99Ca7QRJSlDxM_Iz8kclc&app=desktop
Finding Futures presents it's inaugural free Digital Careers Magazine, 'Futures', aimed at 15-18 year olds across Northamptonshire. Jam packed full of careers resources and support, including Covid's impact on the local workforce, LMI from local businesses, support for better decision making, information on post 16 and 18 options, plus lots more! Click on the link below, pages 5, 7 and 10 have some useful links:
https://www.paperturn-view.com/?pid=OTE91895

You may be at home but it doesn't stop you visiting museums and art galleries around the world!
https://artsandculture.google.com/partner?hl=en
YouTube has some great lectures from the Royal Institution
https://www.youtube.com/user/TheRoyalInstitution
If you want to mix up a bit of MFL with being creative then these links are perfect for you!
https://m.youtube.com/watch?feature=youtu.be&v=3eXT60rbBVk
https://m.youtube.com/watch?v=Z8In0I1WHFs&t=24s#menu