Yr7 Trip to Lincoln Castle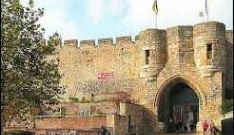 The Yr7 trip to Lincoln Castle and Cathedral has been launched to students...
Students have been studying the development of castles in their Humanities lessons and the concept of change and continuity is a theme that is constantly explored. This trip will give students the opportunity to witness change over time and to see the development of castles for themselves. Built by William the Conqueror in 1068, Lincoln Castle has stood for hundreds of years as a symbol of power and seat of justice. Students will scale the heights of the 360° Medieval wall walk atop the castle's ramparts. They will immerse themselves in the Magna Carta story, seeing for themselves one of the four surviving copies of the Magna Carta. They will follow in the footsteps of prisoners in the Victorian Prison. Students will also have the opportunity of visiting the impressive Lincoln Cathedral during the day. This trip will allow them to discover 1000 years of history and be exactly in the place where it happened.
Date: Wednesday 6 March 2019
Time: 08:40am - 3:00pm (within the school day)
Cost: £18.50
Booking deadline: Thursday 28 February 2019
Please book via Wisepay, our online booking and payment system in order to reserve a place. If you are unable to book using this service, please contact Student Services to discuss an alternative means of booking before the deadline date above. Any delay could result in your child not getting a place.