On The Spot!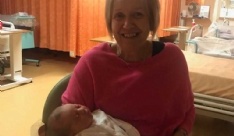 Please see our first 'On The Spot' for 2019 - with Student Services Manager, Rosie Anderson...
Our first 'On the spot' of 2019 is our Student Services Manager Mrs Anderson.

1. What's your perfect "day off"

A lie in followed by an outing with friends.

2. Favourite ever box set?

Line of duty. I had to watch them all in about two days before the next series started.

3. What song most reminds you of when you were at secondary school?

Metal guru - by T-Rex. It was the first record I ever bought. I didn't have a record player so took it to a friend's house and played it over and over again at full volume in her bedroom.

4) What did you imagine your occupation would be when you were at school?

Children's nurse. But then I realised I was squeamish!

5. What's your favourite holiday destination?

Norfolk - it's beautiful!

6. If you could choose anyone, living or dead, which 3 people would you invite over for dinner, and why?

My mum aged 21 to see what she was really like, my best friend as we always have a giggle and a handyman to get all the little jobs done that I haven't been able to do around the house! (If anyone knows of anyone please let me know).

7. Favourite season and why?

Spring - daffodils, daylight and summer not too far away.

8. What were you like at school?

Very loud!

9. What's your favourite food?

Afternoon tea, a roast dinner, chocolate.

10. You're marooned on a deserted island; which 3 items would you wish to have with you, and why?

A mobile phone, a fan and that handyman again!
Great answers - thank you!