On the Spot!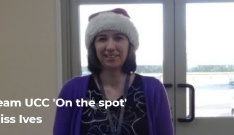 Our last 'On the Spot' for 2018 - with Miss Ives...
Our last 'on the spot' of the year is maths teacher and Y10 tutor Miss Ives! Happy Christmas everyone!
1. What's your perfect "day off"
A morning run at Rutland Water, followed by a spa day with friends and then dinner out at a nice restaurant with my family or go and watch a Luton Town match.
2. Favourite ever box set?
Currently working my way through 'Scandal' but probably my favourite ever is 'Line of Duty'
3. What song most reminds you of when you were at secondary school?
I asked my school friends about this one and we came up with loads but I picked Black Box - Ride on Time (if you've never heard it, you've not missed much) and Boom, Boom Shake The Room by Jazzy Jeff and the Fresh Prince (now that one is a classic!)
4. What's the best excuse you've ever had for homework not being handed in?
I've heard many over the years but one I do remember was a student who said they couldn't do their homework because their parents had gone out for the evening. Made me wonder who was actually doing the homework!
5. What's your favourite holiday destination?
Russia was a very interesting place to visit. However, lots of my favourite places are in the UK, the Lake District being one of them.
6. If you could choose anyone, living or dead, which 3 people would you invite over for dinner, and why?
Struggled with this but ended up with Frank Skinner (for the laughs), Pep Guardiola (to discuss whether he wants to manage Luton Town in the Premiership ) and Bear Grylls (to ask him about question 10)
7. Favourite season and why?
Spring, when it starts to get warm again.
8. What were you like at school?
I absolutely loved school and this was the main reason I became a teacher. I was hard working and fairly quiet. I was also never absent. I did not have a day off school in six years! A statistic I bore my tutor group with endlessly.
9. What's your favourite food?
I love food (so long as I don't have to cook it). My favourite meal would be roast pork with crackling and all the trimmings.
10. You're marooned on a deserted island; which 3 items would you wish to have with you, and why?
Matches (for fire to keep warm and to cook), a fishing net (for obvious reasons) and clearly a dinghy with oars to get off the island.
Thank you Miss Ives!