On the Spot!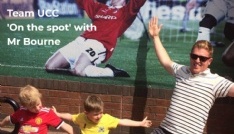 Our latest 'On the Spot' feature with Mr Bourne...
On the spot' this week features our Head of PE and Y8 form tutor Mr Bourne.
1. What's your perfect "day off"
Sleeping past 6:45am followed by a breakfast of smashed avocado on toast with jalapeno peppers, a poached egg and a flat white. Having a game of tennis, squash or a bike ride, then spending time with family and friends.
2. Favourite ever box set?
Scrubs. My wife and I bumped into the actor Neil Flynn at LA airport which was a bit random. We tried to play it cool but ended up telling him how much we loved the show, he was very patient with us. I love anything that makes me laugh and the stories of medical students JD and Turk at Sacred Heart are brilliant. Dr Cox is one of the best characters to be invented..........fact!
3. What song most reminds you of when you were at secondary school?
I was lucky to grow up in the era of some amazing dance and indie music with the Madchester scene, rave/house revolution and Britpop. Unfortunately I also remember some awful tunes from the likes of Whigfield, Scatman John, Mr Blobby and Cotton Eye-Joe. I still listen to a lot of the old tunes and I love going to a gig, especially at a small venue. It has to be 'Out of Space' by The Prodigy or 'Boom Shake the Room' by the Fresh Prince.
4. What's the best excuse you've ever had for homework not being handed in?
I couldn't find you, I didn't know where to look at break time, lunchtime or after school...or try the PE office or e-mail!
5. What's your favourite holiday destination?
Tricky, I've been fortunate enough to see a lot of the world and I have friends living abroad. It would have to be the South Island of New Zealand, absolutely stunning with plenty of adventurous activities, amazing scenery and delicious food, with Argentina a close second choice. I would strongly recommend anyone to travel as much as possible and experience different cultures.
6. If you could choose anyone, living or dead, which 3 people would you invite over for dinner, and why?
The Class of '92 who would have to count as one invite, Sir Alex Ferguson and Sir Matt Busby. It would be fascinating to sit down with a group of iconic Manchester United legends and discuss the rich history of the club from the 'Busby Babes' to 'Fergie's Fledglings'. It would also help me forget about the state of the current team, I could reminisce about the days of attacking, exciting and entertaining football that currently seem like a very distant memory. I would also like to see current players recreating the goal celebrations of Lee Sharpe.
7. Favourite season and why?
Late Spring/early Summer. I love the warm weather and long days. I especially like to eat outside in the evenings; you can't beat a good BBQ and some slow cooked pulled pork.
8. What were you like at school?
I would like to think that I was good company, lively, active and helpful. I was fortunate to have a good friendship group and we shared a love of sport, music and having fun. We also had some interesting nicknames for each other which I'm unable to share!
9. What's your favourite food?
Argentinian steak, rare mmmmmmmmm with a side of Argentinian steak, rare mmmmmmmmmmm and some chimichurri sauce.
10. You're marooned on a deserted island; which 3 items would you wish to have with you, and why?
A digital radio, I love a good podcast, a hammock and supply of factor 50 sunscreen!