On The Spot!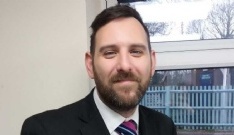 Our favourite feature of the week! On the Spot with Mr Rhodes...
It's Friday and our favourite feature! Our Assistant Principal, Mr Rhodes, has been answering our questions this week!
1. What's your perfect "day off"
My perfect day off would be during the Wimbledon fortnight. It would involve either going to watch the tennis live at Wimbledon, or a whole day relaxing at home with the tennis on the TV. It would probably involve me heading out to play a few sets myself (not at Wimbledon obviously) at my local club.
2. Favourite ever box set?
Has to be Buffy the Vampire Slayer. I was at Sixth-Form when it started and I got completely hooked. I'm a real sci-fi person so it really appealed to me. Recently though I have been obsessed with Game of Thrones and it has become my new favourite.
3. What song reminds you of when you were at secondary school?
Not sure about song but I do remember being in Year 11 and everyone had the Alanis Morissette album 'Jagged Little Pill'. A group of us used to play it continuously on the bus. It's still one of the best albums.
4. What's the best excuse you've ever had for homework not being handed in?
I haven't done my Homework Mr Rhodes
Why Not?
My mum forgot to do it for me!
5. What's your favourite holiday destination?
Depends...
If it's a beach holiday then I love going to Croatia. It's such an amazing place. If it's a cultural holiday then nothing beats going to Vienna which is where my Mum and her side of the family are from.
6. If you could choose anyone, living or dead, which 3 people would you invite over for dinner, and why?
The lady who gave me my first teaching job. She sadly passed away 10 years ago but she was a real inspiration to me. She also had the best sense of humour.
I'm a real sports fanatic so I would invite Andy Murray. I know he gets judged as having no personality but in a generation of tennis superstars consisting of 3 GOAT's (Greatest of all time) he has raised his game through hard work and determination to compete alongside them.
Claudia Winkleman - I watch Strictly all the time and she is just mad. I laugh out loud at most things she says.
7. Favourite season and why?
Summer. I love the sunshine, the long days and the fact it makes people feel more relaxed. It's also great for Tennis!
8. What were you like at school?
Ask Mrs Borrows...she used to teach me!
I was just me. I talked A LOT and loved to socialise, and got into trouble for it but I also worked hard. Nothing came easy to me at school. I wasn't naturally intelligent and had to ask for lots of help. I never worried about that though and I still don't. School is about doing your best not always being the best.
9. What's your favourite food?
FOOD. I love food and I really like trying new things. If I go to my Mum and Dad's though I always ask for a roast dinner so I guess that would top my list.
10. You're marooned on a deserted island; which 3 items would you wish to have with you, and why?
I like this idea of being marooned - it sounds really peaceful.
Definitely something to listen to music on. Or some audio books.
Beard Clippers - I get really annoyed with it when it gets too long.
Flip Flops - I hate getting sand all over my feet.
Thank you Mr Rhodes, great answers!!