On the Spot!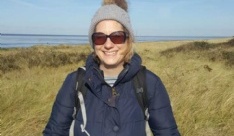 This week's latest edition with Mrs O'Brien from Student Services...
It's the feature we know you all love...this week we have Mrs O'Brien 'On the spot'. Mrs O'Brien works in the Student Services team and helps students with an array of things including first aid, transport, lockers and the school shop.
1) What's your perfect day off?
Either - shopping and lunch with friends, followed by dinner and cocktails in the evening, or a walk along the beach on a crisp Autumn day followed by lunch in the pub!
2) Favourite ever box set?
The West Wing
3) What song most reminds you of when you were at secondary school?
'Ride on Time' by Black Box
4) What did you imagine your occupation would be when you were at school?
Conference and Banqueting Coordinator in a hotel
5) What's your favourite holiday destination?
My favourite once in a lifetime holiday was New Zealand, but for more regular holidays - Norfolk!
6) If you could invite anyone, living or dead, which 3 people would you invite over for dinner, and why?
My Grandma, to tell her about my boys. Barack Obama to ask him about the state of American Politics since he left. Rhod Gilbert for laughs!
7) Favourite season and why?
Autumn - crisp days, bright skies and wrapping up warm!
8) What were you like at school?
I always behaved, worked hard and was keen to please, however, I may have been prone to talking too much!!
9) What's your favourite food?
A good roast dinner (with plenty of gravy!)
10) You're marooned on a deserted island; which 3 items would you wish to have with you, and why?
Matches - to make lighting a fire easier. A hammock - to get me off the sand and somewhere comfy to sleep! A book on Astronomy so I can learn about the constellations.
Thank you! Great answers!