Parent Bulletin 01/07/2022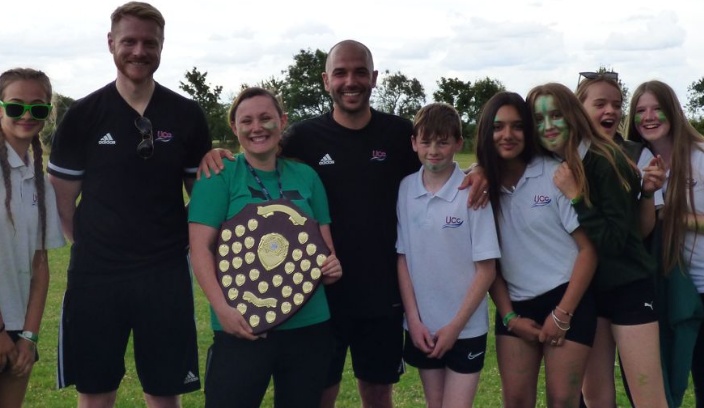 Please see the latest bulletin from Mr Solly below...
Dear UCC Families
There is no other place to start the newsletter this week than Sportsday. Yesterday was truly magnificent and without doubt the best and most enjoyable sports day I have experienced as a teacher in the 18 years since I qualified. UCC Sportsdays have always been great fun, but yesterday Team UCC took it to new heights. Mr Laywood designed, organised and then brilliantly led a superb day of events that enabled everyone to contribute. The golden thread of inclusivity ran through the whole day, so that regardless of someone's sporting prowess or interest, there was something for everybody to get involved in. Yesterday wasn't just about who can run the fastest, or jump or throw the furthest. These traditional athletics events were still there, but alongside these were activities that required teamwork, leadership, communication, cooperation and organisational skills - skills and attributes that are important for most aspects of life. Staff and students alike immersed themselves in the spirit of the day and it was simply just brilliant to stand back and observe. It was a huge team effort from students and staff and a number of Year 11 students returned to participate as sports leaders, which was also great to see.
On Wednesday this week Mrs Rodgers hosted an excellent Embedding Formative Assessment (EFA) training day, on behalf of the Students Schools and Teachers network (SSAT). We became an EFA Ambassador School for the SSAT in 2019/20 but the pandemic had limited our ability to bring other schools into UCC to become trained in this aspect of teaching. We hosted 4 schools this week who are going to be implementing EFA as their professional development model for their teachers and the training was very well received. Corinne Settle, Senior Education Lead for the SSAT shared the following email with us after the event:
On behalf of SSAT, I just wanted to say a massive thank you for the time and careful planning that went into yesterday's event. Please pass on our thanks to everyone involved, especially Mrs Perkins, Mrs Duffy and Mr Jones. It was very successful event with delegates buzzing about the school and the programme. Mrs Rodgers' modelling of formative assessment ensured that all delegates questions and needs where answered. The inputs from everyone were a wonderful reminder of the impact of the programme and the students were great ambassadors for the lived experience at the school.
On Monday, Tuesday and Wednesday this week we hosted Year 6 pupils, who will join us as Year 7 students in 22/23. On Monday, students and their new form tutors participated in an excellent team building event at the Rutland Showground, making new friends and developing their confidence, communication, leadership and organisational skills. Then on Tuesday and Wednesday they were in school with us, participating in lessons and learning about our school. In similar fashion to my reflections on sportsday, this series of transition events were the most successful I have seen in my career; as a school community I feel that we did a really great job in welcoming these young people into the UCC family and started to foster that important sense of belonging that will help them to thrive here.
Next week Mr Sievewright and I have the important and very enjoyable job of interviewing Year 10 students for Student Leadership positions. The letters of application they have submitted were superb across the board and I am very excited to listen to them articulate their vision and plans for these roles.
Next week our Humanities team take a group of 46 students to Berlin, which marks a welcomed return to foreign educational visits. I am sure the students will have a great time and learn huge amounts whilst they are there.
We also have the Year 11 Prom next week, which is always a fabulous and joyous event. I am very much looking forward to seeing our students celebrate their 'graduation' from UCC, before they collect their results in August.
Please take the time to read through the rest of the newsletter this week, so you are up to date on everything that has been going on at UCC.
I hope you have a great weekend.
Take care
Mr Solly.