Team UCC 'On the Spot!'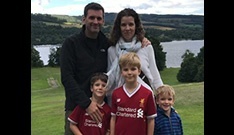 Please see our latest edition with Mrs Duffy...
The next member of
#TeamUCC
to volunteer for 'On the spot' is Mrs Duffy, who is our Head of English at UCC:
1. What's your perfect "day off"?
Early gym session, a bit of shopping followed by tea and cake. Then a relaxing country walk and evening film night with my three boys and husband.
2. Favourite ever box set?
Harry Potter 1-7 - I've lost count of how many times I've read and watched these. I'm now passing the obsession onto my children!
3. What song most reminds you of when you were at secondary school?
Take That 'Never Forget' - played in the common room on my last day in the Sixth form.
4. What is the best excuse you have heard from a student for not doing their homework ?
Their little brother had scribbled all over it and they showed me the evidence.
5. What's your favourite holiday destination?
The Maldives
6. If you could choose anyone, living or dead, which 3 people would you invite over for dinner, and why?
Shakespeare - to see how much of his work was actually plagiarised.
Jamie Oliver - to cook a delicious meal.
JK Rowling - to talk all things Harry Potter.
7. Favourite season and why?
Autumn - I love all of the colours. Plus it is my birthday, Halloween, Bonfire Night and the run up to Christmas!
8. What were you like at school?
Hardworking and sociable - a bit of a Hermione Granger at times, especially at Primary!
9. What's your favourite food?
Chinese
10. You're marooned on a deserted island; which 3 items would you wish to have with you, and why?
Factor 50 sun cream because I always burn.
A good book for entertainment.
A survival guide to give me a fair chance of staying alive!
Thank you Mrs Duffy, fabulous answers! We think it is fair to say Mrs Duffy is a bit of a Potter fan!