Team UCC 'On the Spot!'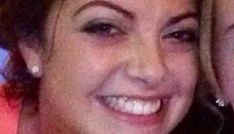 The next installment of Team UCC On the Spot is here!...
The next member of #TeamUCC to volunteer for 'On the spot' is Miss Cipriani, who teaches languages and music at UCC.
1. What's your perfect "day off"?
Having a lazy morning with a cup of coffee and a full English breakfast followed by a long walk. Then home to watch Netflix and do some yoga!
2. Favourite ever box set?
The Tudors - I love history! A close second is Glee, I was obsessed with it when it first came out.
3. What song most reminds you of when you were at secondary school?
Britney Spears - Oops I Did It Again! It was always on the radio before school! My best friend and I knew all the words and would sing it at break.
4. What is the best excuse you have heard from a student for not doing their homework ?
'I was doing my homework last night for French and I left my book under my bed.' My next favourite is 'Ikea happened' - excuse me, sorry?!
5. What's your favourite holiday destination?
Italy as my family live in the Venice area and the food is amazing!
6. If you could choose anyone, living or dead, which 3 people would you invite over for dinner, and why?
I'd invite Elvis Presley because he is the King Of Rock and Roll and I adore his music. Anne Boleyn to see if she really was guilty of the crimes she was accused of and David Jason because he always makes me laugh.
7. Favourite season and why?
Autumn as it's still warm at the end of the day and I like orange leaves!
8. What were you like at school?
Chatty, very chatty - no wonder all of the teachers knew my name. I never had a detention but I came very close once.
9. What's your favourite food?
Anything Italian but especially bolognese, risotto and polpete (meatballs) made by my Nonna. I still can't perfect her recipe!
10. You're marooned on a deserted island; which 3 items would you wish to have with you, and why?
Chanel perfume to smell nice, a family photo and a cup of tea!
Thank you Miss Cipriani. Fantastic answers!