UCC Open Evening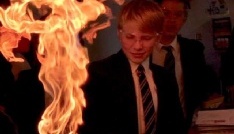 Thursday 27 September - Open evening for Year 6 parents and students...
We look forward to welcoming Year 6 students and their parents to UCC on Thursday 27 September, from 6:00pm - 8:00pm.
At the open evening you will be able to discover more about Uppingham Community College. There will be three presentations from our Principal, Mr Ben Solly (with some help from our students) as well as guided student tours and subject displays in all departments.
The details of our open evening are as follows:
Date: Thursday 27th September 2018
Time: 6:00pm – 8:00pm
Presentation times: 6:20pm, 7pm and 7:30pm
At Uppingham Community College we base everything we do on our core values: Respect, Honesty and Kindness. These simple and memorable principles guide us in the way we work and how we interact with each other every day. We are highly aspirational for our students and we expect them to achieve high standards in their education through hard work, resilience and a determination to be the best they can be. We also expect our students to be amazing human beings and their personal development as young people is just as important to us as their academic achievements.
We look forward to meeting you and your family at our open evening.