Team UCC 'On the Spot!'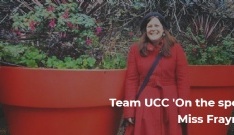 It's here - the feature you've all been waiting for - please find out more...
Our first 'On the spot' feature, and we start with our Head of Modern Foreign Languages - Miss Frayne.
1. What's your perfect "day off"?
Lazy morning reading a book, brunch with friends, having my nails painted by my 4 year old goddaughter, evening at a play/musical.
2. Favourite ever box set?
The West Wing
3. What song most reminds you of when you were at secondary school?
Reach for the stars - S Club 7
4. What is the best excuse you have heard from a student for not doing their homework ?
I have *genuinely* had a child bring the mauled up remains of their homework from where their dog ate it.
5. What's your favourite holiday destination?
New Zealand (although it's like asking me to pick a favourite child!)
6. If you could choose anyone, living or dead, which 3 people would you invite over for dinner, and why?
My grandad, as he died when I was young, Ryan Reynolds as he's hilarious and Jamie Oliver so he could cook!
7. Favourite season and why? Spring - I can wear my heels again without fear of slipping on ice
8. What were you like at school?
Started tall, then quite quickly became small.
9. What's your favourite food?
Cheese, chocolate, ice-cream, cake (sorry did you only want one?!)
10. You're marooned on a deserted island; which 3 items would you wish to have with you, and why?
A phone to call for help, a kindle to read until help arrived, chocolate - obviously.
Thank you Miss Frayne! Great answers!