Corby Bus route - offer letter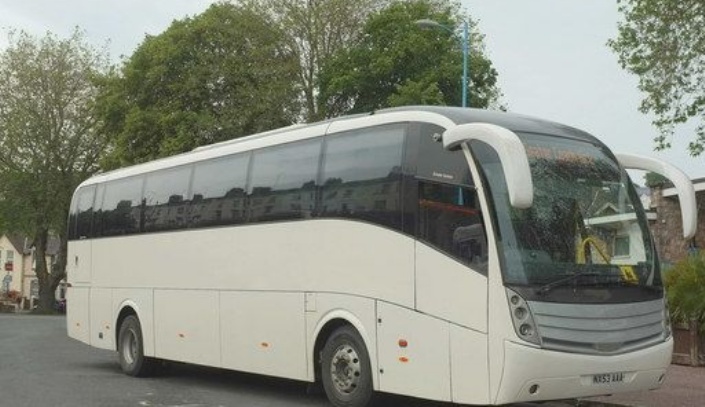 Please see the offer letter that has gone out to parents that expressed an interest in the Corby bus
24th June 2020
Dear Parents & Carers
UCC4 – New Corby Service 2020/21
I hope this email finds you and your families safe and well.
Following the disappointing news from Lawsons that they will no longer be offering two services from next academic year, I wrote to you a few weeks ago with a proposal to gauge interest and I am now writing to you with further news.
I forwarded details of a proposed new route, which was very similar to current ones but combined both of these services. This proposed service would be provided by Lawsons but managed by UCC. We already manage three services which are non-profit making and run by the College as an additional service to our parents. The level of interest has not been as first hoped but after careful consideration, we are pleased to offer this service to you and our students for the academic year 2020/21. This service will be the UCC4.
The cost of the permit for 2020/21 will be: £925.00 (Discounted to £878.75 if paid in full by 30/9/20)
To secure your child/ren's place, a non-refundable deposit of £235.00 is now required. We fully recognise that this is a sizable deposit but it has been calculated to reduce the monthly instalment amount payable from September 2020 to February 2021. To help spread the cost, payment of the deposit may be made in full by 10th July 2020 or in two instalments of £117.50 by 10th July and 1st August 2020.
Please complete the online form bit.ly/2CwmR3n to confirm your acceptance of the UCC terms & conditions and make payment of your deposit via Wisepay, no later than 10th July 2020. If payment is not received by this date, unfortunately, we will not be able to guarantee your child's place.
The remaining balance can be paid in full by 30th September 2020 (£878.75) which qualifies for a 5% discount, or in six equal monthly instalments of £115.00 commencing in September 2020 to February 2021. Payments are due on the first working day of each month. If payments are not kept up to date, the bus permit may be withdrawn.
An invoice for the full amount will be sent before the start of the academic year, along with the travel permit. The College's preferred method of payment is via Wisepay which will also give you a record of what you have paid to date.
Terms & Conditions and a timetable are included with this email.
As with all UCC bus services, this is only assured for 2020/21 and any future operation will be determined on financial viability.
If you have any queries, please do not hesitate to contact the Finance Department either via email finance@ucc.rutland.sch.uk or call 01572 823631.
Yours sincerely
Mrs K Croote
School Business Director
TERMS & CONDITIONS FOR USE OF BUS PERMIT 2020-21
ALLOCATION: Transport will be provided on to the route/stop applied for on a first come first served basis.
PAYMENT: To secure your place a deposit of £235.00 is due either in full by 10th July or in two instalments of £117.50 payable on 10 July 2020 and 1 August 2020.
Balance of payment to take advantage of 5% discount is payable by 30 September 2020
Instalment Payment Option. Instalments are payable by 1st working day of the month commencing 1 September 2020 to 1 February 2021 (inclusive)
The permit may be withdrawn if payment terms are not adhered to.

Students will be issued with a bus permit for their chosen route and any student attempting to travel on a route for which they do not have a permit will be prevented from travelling. Students are not authorised to travel without a valid permit.

The bus permit must be on the student at all times and shown to the driver on request. Replacement permits can be purchased at a cost of £2.50.

Except when embarking or disembarking seat belts are to be worn at all times.
The consumption of food or drink is not permitted on the vehicle.

During a journey all passengers must accept the authority of the bus driver, without question, who may ask a passenger to obey a simple instruction or desist from certain actions.

Students must travel to and from College in full school uniform. In exceptional circumstances this may be waived or amended to reflect a particular activity or circumstance (eg non-uniform days or for school trips where uniform is not required).

Parents will be required to meet the cost to repair any damage as a result of vandalism.

The Governors of UCC reserve the right to withdraw the bus service at any time.
The bus permit is only issued for one year. Future operation of this service is not guaranteed.

Students are expected to adhere to the College's expectations of 'Ready, Responsible and Respectful' and the permit may be withdrawn at any time if behaviour or language fails to uphold these.

A one month notice period to cease using the transport service must be given in writing to the finance team at finance@ucc.rutland.sch.uk. Fees owing/refunds due, will be calculated from the date the bus permit is returned.
UCC4 Route: Corby Bus Time Table
| | |
| --- | --- |
| 07:05 | Opposite Green Dragon - Brigstock |
| 07:10 | Bus stop opposite Old Dry Lane - Brigstock |
| 07:16 | Bus stop Corby Road / Gray's Close - Stanion |
| 07:22 | Bus stop Corby Road (outside number 2 Corby Road) - Weldon |
| 07:25 | Corby Road (opposite Starbucks) - Weldon |
| 07:30 | Corby Business Academy bus stop |
| 07:33 | Oakley Road bus stop / Exeter est |
| 07:39 | Oldland Road bus stop / Wick Close |
| 07:43 | Oakley Vale Primary School layby |
| 07:45 | Oakley Vale bus stop – just after Brooke Weston School |
| 07:47 | Lewin Road bus stop – opposite Home Close |
| 07:48 | Lewin Road bus stop – opposite Hoppett Close |
| 07:50 | Viking Way bus stop – Brunswick Gardens |
| 07:52 | Viking Way / Denmark Close |
| 07:53 | Gainsborough Road bus stop – Glyndebourne Gardens |
| 07:56 | Gainsborough Road bus stop – York Gardens |
| 07:57 | Beanfield Avenue / St Peter & St Andrews Church |
| 08:00 | Studfall Avenue / Rockingham Arms |
| 08:02 | Rockingham Road bus stop / Studfall Avenue (side of large white house) |
| 08:05 | Welland Vale shops |
| 08:07 | Willowbrook Road bus stop / Shire Horse |