Year 10/11 GCSE Art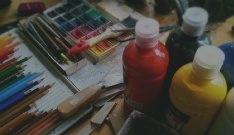 Please read more information about the art packs available to purchase...
The following art packs have been supplied by one of our suppliers at great value:
YEAR 10 GCSE Students
All students in year 10 must buy a sketchbook (which will last them until Easter). It is their choice if they wish to just purchase just the sketchbook and folder (option 1) or purchase the whole Art Pack as detailed below (option 2).
Year 11 GCSE Students
As year 11 students already have their sketchbooks for their coursework project (which they will be working on up until Christmas) they do not need to buy the full pack. However, I didn't want them to miss out on the opportunity to get some great value art equipment, so option 3 has been designed especially for them. It is optional, so students should not feel obliged to buy this.
Please place your orders and make your payment via Wisepay no later than Thursday 20 September so that students get their equipment as soon as possible
YEAR 10 Art Equipment Options
Option 1 : Sketchbook and folder Only

A3 School Sketchbook Claret with School Logo
A3 folder (plastic with handle)

£5.40

Option 2 : Year 10 Complete Art Pack

1 x A3 School Sketchbook Claret with School Logo
1 x A3 Folder
1 x Sketching Pencil Set B-6B
1 x Watercolour Tin
1 x Size 2 Paintbrush
1 x Size 6 Paintbrush
1 x Nano Fine Line Pen Black
1 x Giotto Coloured Pencils 12

£14.20
Year 11 Art Equipment Option
Option 3 : Year 11 Art Pack (without sketchbook)

1 x A3 Folder
1 x Sketching Pencil Set B-6B
1 x Watercolour Tin
1 x Size 2 Paintbrush
1 x Size 6 Paintbrush
1 x Nano Fine Line Pen Black
1 x Giotto Coloured Pencils 12

£10.50