Year 11 - History Trip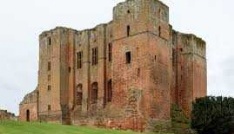 Read more information about the Year 11 History trip to Kenilworth...
GCSE History students have been studying the development of Kenilworth Castle as part of the GCSE History course. Students have been invited to attend a trip to Kenilworth Castle on Thursday 20 September from 08:30am - 3:00pm. This trip will give students the opportunity to witness change over time and to see the development of castles for themselves.
Please book on to the trip and pay via Wisepay, the cost of the trip is £7. (Please note that the deadline for booking is Monday 17 September)
Students are NOT required to wear full uniform, however please ensure they wear suitable clothing and footwear (boots would be sensible). Please take a waterproof in case of wet weather or sun hat and sun cream in case of hot weather.
Students are required to take a packed lunch plus a snack for later, writing equipment and can take a small amount of cash for souvenirs/ice-creams etc.