Student Leadership Team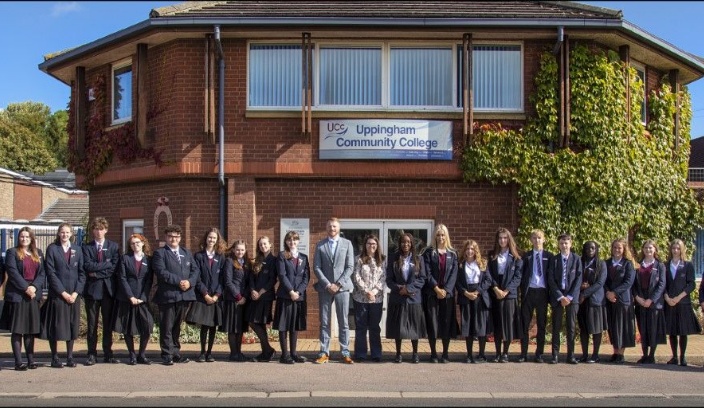 Student Leadership Team...
Student Leadership Team appointed at UCC
Uppingham Community College are delighted to introduce the Student Leadership Team for 2019-20. Students wrote letters of applications to the Principal, Mr Solly, who interviewed all of the candidates alongside the Progress Leader for Year 11 Miss Achard.
Two Head Students, Steph and Caitlin, were appointed and they will be assisted in their leadership duties by four Deputy Head students Mia, Emily, Victoria and Ella. A team of impressive Prefects make up the remainder of students with leadership responsibilities.
Steph and Caitlin will lead the UCC student council, which is comprised of year group representatives across the school. The student leadership team will be working with staff to help make improvements to areas of school they are passionate about. The team are progressing well towards their goal of establishing a Student Common Room along with the impressive ambition of UCC becoming single use plastic free.
Principal, Mr Solly said 'the students who applied for leadership positions were incredibly impressive during the interview process. They were articulate and passionate in equal measures and I know they will all have a tremendous impact on our school over the course of the next year.'