Year 11 Geography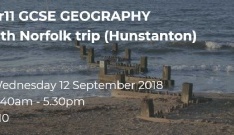 Please see more details about the Yr11 Geography trip to Hunstanton...
Yr11 GCSE Geography Students have been invited to attend a field trip to the North Norfolk coast, Hunstanton. The trip will take place on Wednesday 12 September 2018, 08:40 - 5:30pm* (approx)
If you haven't booked your student on the trip yet - please book on and pay via Wisepay. The cost is £10 per person. (Please note the booking deadline is 10 September)
Students will be required to take a packed lunch and writing equipment,
Students will NOT be required to wear uniform - but please ensure the student wears approporiate clothing and footwear (boots would be sensible). Please take a wateproof in case of wet weather or sun hat and sun cream for hot weather.
*Students will need to be collected from UCC car park at this tiem or make alternative arrangements.