Spotlight!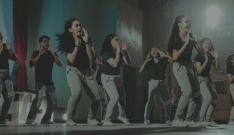 Please see important information regarding Spotlight...
Spotlight Dance 2019
For those parents whose children are taking part in this years Spotlight - please read the information below:
The event will take place Friday 5th April at The Stamford Corn Exchange.
Transport to the day event has been arranged around our school day, therefore shouldn't affect the student's transport to and from school, it is with this information that I advise students to arrive and depart from school as per normal. Students will travel by school coach to the day event. They will leave UCC at 9am and return at 2.30pm.
For the evening performance students are to make their own way to and from the theatre and should arrive via the stage door no later than 6:15pm.
Tickets are to be purchased via the Stamford corn exchange box office and are priced at £10 for adults and £6 for concessions and children Under 16's:
https://www.stamfordcornexchange.co.uk/
Students will need to provide their own food and drink for the day there will not be an opportunity to purchase refreshments at the venue during the day.
Medical and contact details will be taken off the school database and the completion of the new GDPR form will be necessary.
Yours sincerely
N HODGSON (Miss)
PE Department