Supportive Learning
Supportive Learning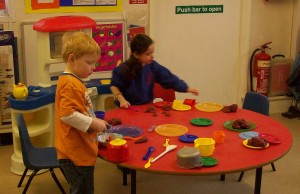 We want our nursery to be the best, which is why attracting and retaining the best staff is paramount. Our staff are crucial in providing a memorable nursery experience and our aim is to offer them the best training opportunities to support our childcare and education philosophy.
Our nursery staff are focused on providing fun and education, and they will work to ensure your child develops as an individual, whilst helping to nurture and encourage learning through discovery and enjoyment. We expect all our staff to engage in skilful and sensitive interactions to support a child's learning.
This ensures that play opportunities, resources and interactions indoors and outdoors are appropriate to the level of competence and maturity of the child.
Curriculum
Children learn individually and with others through play. We offer our children a play-based curriculum which supports all aspects of their learning and development. It encourages their in-built curiosity and desire to make sense of the world around them and helps them to discover that learning is interesting and fun. This is vitally important if children are going to remain keen learners for the rest of their lives.
We deliver both the Birth to Three Curriculum and the Curriculum for Excellence in a number of ways through:
construction and small world play
treasure baskets that contain a variety of different objects to help stimulate babies' senses
large and fine motor skills and experiences
literacy and numeracy skills
role play and imaginative opportunities
water, sand and malleable experiences
stories, rhymes and songs
mark-making - the marks that children make through a range of media, such as paint, water, sand, pencils and the meanings they give them
creative workshops
outdoor opportunities
exploring and investigating science and nature
dance, music and sensory experiences