Science
| | |
| --- | --- |
| Our Department has a hard working and supportive ethos. We are committed to teaching and learning by promoting innovative practice, both in terms of our teaching and our use of practical activities to enhance learning. We believe every child matters, all students have individual targets to aspire to achieve and we are proud of all those who go on to realise their potential. We want all students to experience the awe, reverence and wonder in Science. | |
Key Stage 3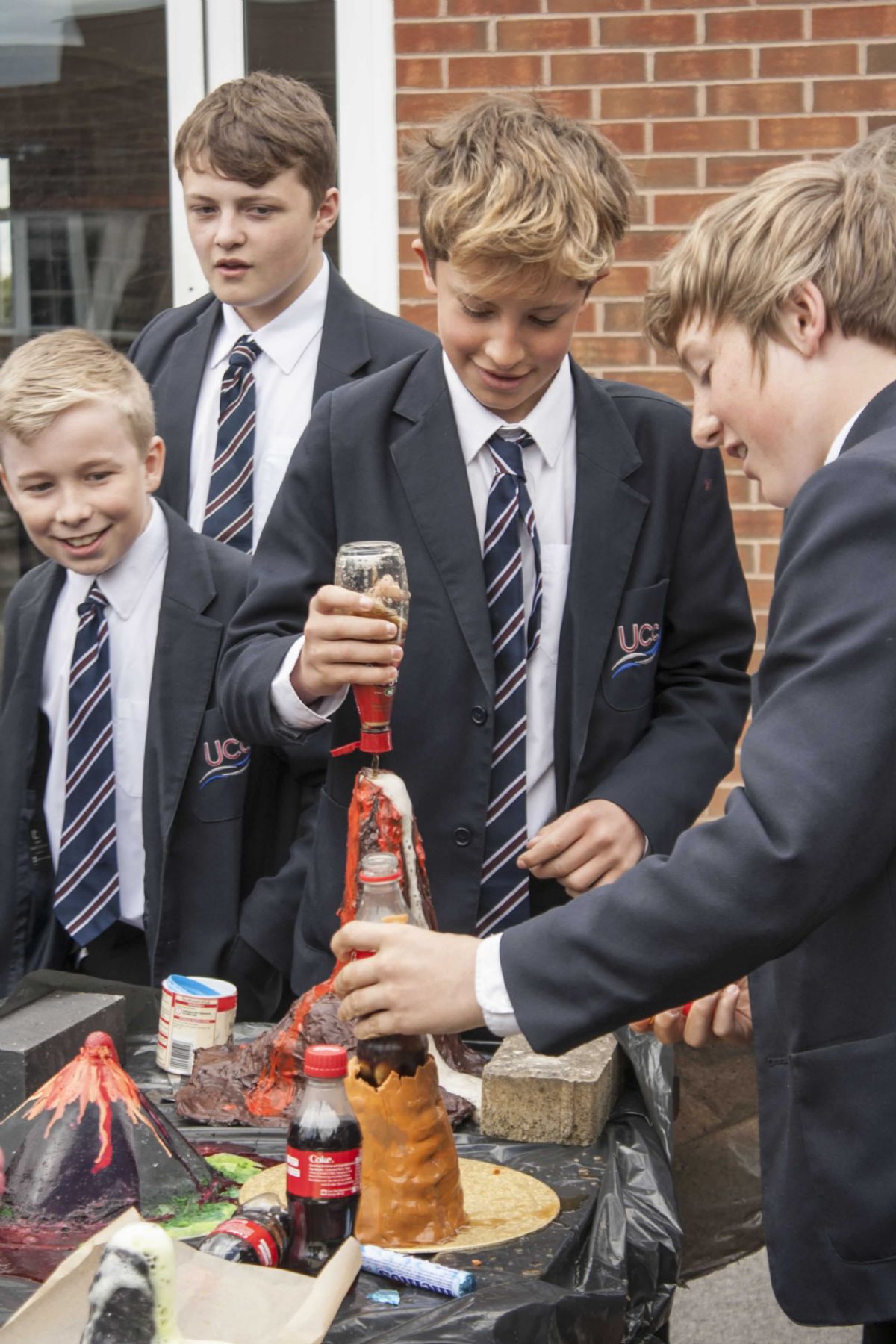 At Key Stage 3 the course is based on AQA Key Stage 3 Science syllabus so that students are equipped to meet the challenges of the new GCSE science courses.

In Year 7 and 8 students are introduced to Biology, Chemistry and Physics. There is emphasis on learning and developing the skills which will enable students to become competent scientists. Homework includes practical activities and research to do at home.
In the January of Year 9 students start the GCSE Science course. Students have 6 lessons of Science a fortnight.
Year 7
Year 8
Year 9

Biology:

Cells

Human reproduction

Plant Reproduction

Ecosystems

Biology:

Movement

Digestion

Breathing

Variation

Biology:

Photosynthesis

Respiration

Chemistry:

Acids and Alkalis

Particle model

Separating mixtures

Earth materials

Chemistry:

Metals and non-metals

Periodic table

Elements

Types of reactions

Chemistry:

Metals

Materials

Physics:

Forces

Energy

Electricity

Sound

Physics:

Light

Heating and Cooling

Magnets & electromagnets

Forces

Physics:

Electricity

Waves

January students
start GCSE
Key Stage 4
At key stage 4 students have six lessons of science a fortnight they follow either a combined science course or triple science. Both courses cover Biology, Chemistry and Physics. Scientific working is integrated into and delivered throughout the course.
Students will be given opportunities to: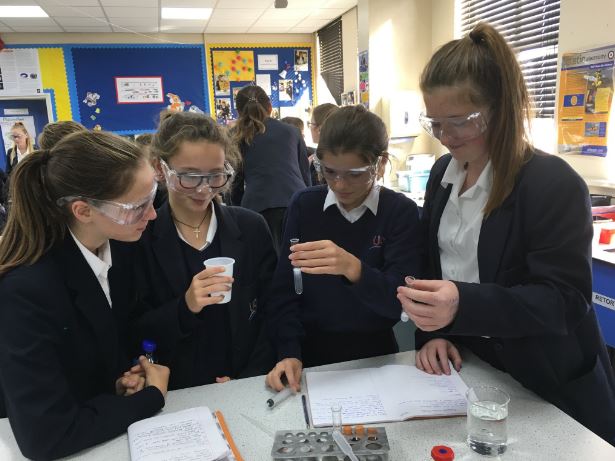 Acquire scientific knowledge and understanding
Develop experimental and investigative abilities
Develop an understanding of how science works in everyday life.
Develop an understanding of the applications and implications of science.
Triple science students will receive a deeper education and understanding in the three sciences.
Combined Science
Students following the Combined Science will study 2 hours of Biology, Chemistry and Physics a week.
Assessment
This is a linear course which will be examined May/June 2108. They will be assessed in six 1 hour 15 minutes formal written papers: two Biology, two Chemistry and two Physics. Each will assess different topics. Students are also required to complete 16 practical's. This course will lead to 2 GCSEs graded 1-9.
Summary of Conte​nt

Biology

Cell biology

Organisation

Infection and response

Bioenergetics

Homeostasis and response

Inheritance, variation and evolution

Ecology

Physics

Forces

Energy

Waves

Electricity

Magnetism and electromagnetism

Particle model of matter

Atomic structure

Chemistry

Atomic structure and the periodic table

Bonding, structure, and the properties of matter

Quantitative Chemistry

Chemical changes

Energy changes

The rate and extent of chemical change

Organic chemistry

Chemical Analysis

Chemistry of the atmosphere

Using resources
Triple Award Science
Students who take individual GCSEs in Biology, Chemistry and Physics, will be awarded 3 GCSE grades, a separate grade for each science at the end of the course. Students taking Triple Science will study 2 hours of Biology, Chemistry and Physics a week. The triple course covers the same topics as the combined course but there is extra content in all three sciences and an extra physics topic covering space physics.
Assessment
There will be two 1 hour 45 minutes written exams for Biology, Chemistry and Physics to be taken at the end of the course. Each exam is worth 50% of the final grade. There are also 8 required practicals to complete in each science
Extra-Curricular Activities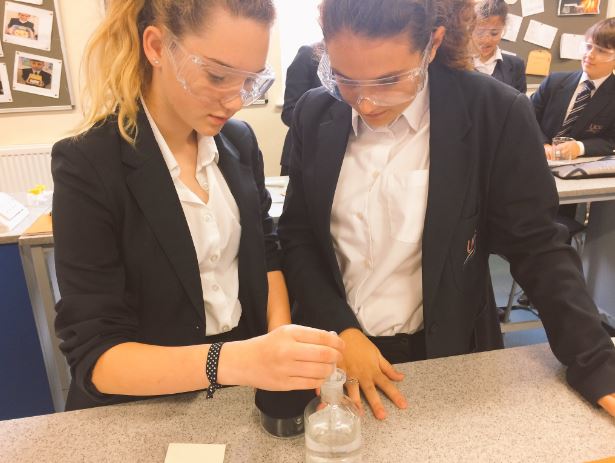 We offer a variety of different opportunities in Science beyond the curriculum. These include visits to: Whipsnade Zoo, the Natural History Museum, involvement in STEM week and Extreme Physics Residential Course in Year 10 and the Big Bang Fair in Year 9.
We have been proud to host the Physics event for gifted Year 9 students from a number of schools which is run by the institute of physics.
If you would like find out more about the science curriculum please contact:
Dr. E. Major Head of Science Department: major_e@ucc.rutland.sch.uk