Progress at Key Stage 3
STEPS ASSESSMENT FRAMEWORK
The Key Stage 3 curriculum is underpinned by our STEPS assessment framework.
The STEPS framework forms a criteria based set of competencies, spanning the knowledge, understanding and skills required in each subject which become incrementally more challenging.
The assessment purposes of STEPS are:

to enable teachers to provide formative feedback to students so they can improve their work and progress in their learning
to make summative judgements of student progress, based on a range of assessed pieces of work
STEPS assessment judgements are not given to students on individual pieces of work because we want students to focus on how to progress in their learning rather than focussing on a number.
Teachers should use a range of evidence to make a summative, 'line of best fit' judgement on which STEP a student is at.
How do we track and report progress?
Students are placed in bands depending SAT scores and current teacher assessment.
Students may be placed in different bands for different subjects.
For each band there is a 'flight path' which outlines expected levels of progress across KS3.
During the academic year teachers will make summative judgements, based on a range of assessment evidence to make statements about student progress which are sent home.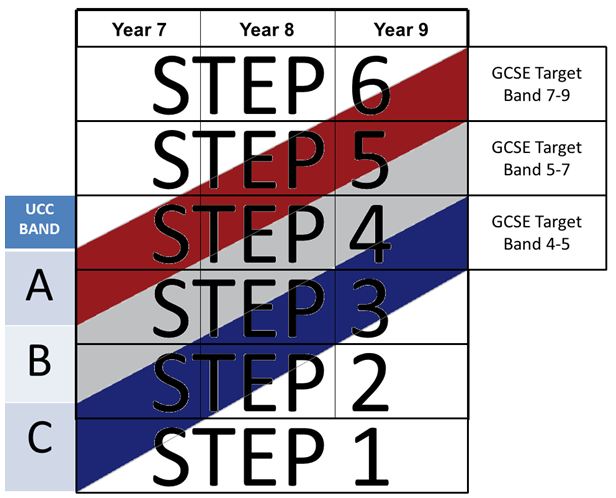 How we ensure our students make good progress.
Please
follow this link
to visit our page that explains how we ensure our students make good progress.
.