Parent Links
eSafety
"UCC adopts a proactive approach when it comes to promoting eSafety. Every child completes an e-safety module in their ICT lessons and then have a further eSafety input in PSHCE lessons and assemblies during Internet Safety Week."
Homework
Show My Homework - Help with setting up your account
Online Payments
Log in to our Online Payment Area to manage your school payments for school trips, lunch money and more...
ParentEveBooking
Access UCC's parents' evening booking system
Pupil Premium
UCC Pupil Premium strategy.
School Gateway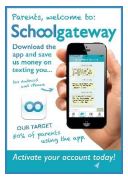 Keeping up with what's going on at school is easier than ever.
How to activate the School Gateway service on your phone;
Download the app
If you have a smartphone, please download School Gateway from your app store (Android and iPhone). The app shows the same information as the website PLUS you can send app messages to the school for FREE – this will also save the school money when we send text messages.
Website Help
Website Help