Our Rooms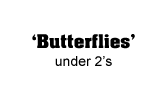 The 'Butterfly Room' has capacity for 12 babies at any one time and includes a separate, fully equipped sleeping room. We have three regular members of staff assigned to the 'Butterfly Room' to ensure continuity for the children.
We ask parents to provide a diary so that staff are able to record daily events for your child, especially developmental progress. Just as importantly, we will record sleeping times, feeding details and other activities to share with you. Equally, we welcome feedback about your child's time at home. These personal diaries build into a special keepsake for the years to come.
Daily activities for the older children in the 'Butterfly Room' are planned around the Early Years Foundation Stage, including drawing and painting, water/sand play and exploring the outdoors. Play activities also take place outside in the garden during the warmer weather.
Each child has their own developmental record, including observations and photographs which chart their progress.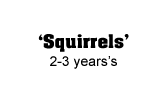 The 'Squirrels' group occupies part of the main room. The children's daily activities are also planned using the Early Years Foundation Stage, which is designed to ensure that children develop their potential in six key areas of learning. Focused activity sessions are planned every day to increase individual capabilities in many important areas. Developmental records are kept for your child and are available for you to see at any time.
The daily routine for the 'Squirrels' involves free playtime, arts and crafts, stories, outdoor activities and song/rhyme time. Themed play boxes are changed daily to encourage imagination and creativity, cooking activities and also visits to the College's Community Lounge. The Lounge is used for music and movement sessions. There are plenty of outside activities, including use of the tennis courts for cycling and 'push along' fun, and the playing fields for picnics and nature walks.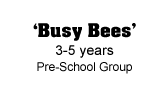 The 'Busy Bees' Pre-School Group is also located in the main room which can accommodate up to 20 children at the same time.
The Pre-School Group is taught by two members of staff who possess a wealth of Level 6 experience with the Early Years Foundation Stage. The children's activities are planned around the 'Six Key Areas of Learning', as set out in the next section. These are recorded in EYFS profiles.