Music Department
UCC - Music Curriculum 2017-18
We want to ensure every student enjoys music and gains a real sense of achievement as a result. We believe that it is important that all students, whatever their musical ability, have the opportunity to improve their skills and appreciate the joy of composing, playing and singing live music, having fun along the way!
We actively encourage students to bring their own instruments into lesson time in many of our projects and encourage playing in an ensemble. By becoming involved in listening, learning and performing, we hope that all our students will develop and maintain a life-long love of music and appreciate the huge importance it has in all our lives.
COURSE OUTLINES – MUSIC
Year 7 Course Outline – Music:
In the Autumn term we cover singing, performance, keyboard skills, TV themes and the use of notation.
In the Spring term students are introduced to musical vocabulary, rhythmic and melodic notation and the instruments of the orchestra.
In the Summer term students try out music from other cultures, including African drumming. A summer project gives all the students the time and space to improve and refine their compositions.
Year 8 Course Outline – Music:
In the Autumn term we explore (keyboard/guitar) riffs and hooks, following simple musical scores.
In the Spring term students are encouraged to compose melodies and understand compositional devices. We also study music of film (screen) and theatre (stage).
In the Summer term we look at rhythmic notation, the style and impact of football songs/anthems and perform some salsa!
Year 9 Course Outline – Music:
In the Autumn term topics studied include the riffs and hooks, and explore disco music of the 1970s and 1980s.
In the Spring term students learn about music from the past and learn medieval composition techniques - handling music ICT software programs including Sibelius. They then have the opportunity to complete a personal study/composition project in a genre of their own choice (bridging the Spring and Summer half terms).
In the Summer term we find out about the contribution music makes to radio advertisements. After this, students have the opportunity to write a jingle and create voice-overs with backing vocals and a soundtrack.
Music as a GCSE - Please see the downloadable information below.

Target Setting
Each student is (baseline) assessed early in the Autumn term and all students are given a target to aim for by the time they have completed year 9. In line with this overarching target, we set interim targets at the end of years 7 and 8 to make sure that each student is doing whatever possible to reach their full potential.
The department sets and marks three main projects per year; these assessments normally make up part of the extended project work over a number of weeks that the students develop. Homework tasks, presentations, practice, composition and research or other tasks also contribute to the assessments made in line with the levels of attainment reached.
More information about our assessment procedures can be found on the department website which also includes sources of help for parents and students on the key assessments where appropriate.
Homework Mission Statement "Music homework - Never sharp… never flat… but always natural!"
The department sets one half-termly homework task for all students in years 7 to 9. Students are expected to take responsibility for their own learning in order to develop their independence. Parental co-operation however is valued.
Homework in key stage 3 is set to consolidate practical work being undertaken in lessons and to allow students to continue to develop their own musical interests, applying what they have learned to a range of different musical experiences. Some homework links music with art and design or drama and dance. All homework is available to view online on SMHK.
Extra-Curricular Activities
We offer an exciting and comprehensive range of extended music activities which allows students to practise and perform in specialist instrumental groups and/or larger groups where there is a greater variety and range of instruments. There are some fantastic opportunities that are on offer here at UCC. Some of our 'regular' extra-curricular activities take place at break times, lunchtimes and after school throughout the year. Other musical and performing arts activities are 'seasonal', just as rugby and cricket are in sport. Please note, the UCC Wind Band (flutes, saxophones, oboes, clarinets, cornets, trumpets, baritones, tubas, electric bass) and UCC Strings Ensemble (violin, viola, 'cello and double bass) rehearse separately throughout the year and come together as a complete orchestra when nearing concerts. The Strings Ensemble group is coming soon. We would like to call all upper and lower strings players together to create a brand new 'Strings Ensemble'. This group will then run seasonally or all year round depending on demand.
UCC Wind Band – open to Grade 2+ instrumentalists - led by Mrs Joy and Mr Plummer- This established group has student players involved in rehearsals for Christmas and Show performances. All clarinet, flute, bassoon, saxophone, oboe and brass players are welcome. Students from Grade 3 upwards are invited to join this group (including recorder players). This activity is free of charge as it is funded through the Music Department. The group will be run collaboratively between Mrs Joy and a visiting instrumental leader. We will be working towards various performances including the Christmas and Shows concerts, plus Open Evening and Awards Evening listed on the Music Department's Calendar.
Brass & Percussion Ensemble – will begin rehearsals just before the October half term break – led by Mrs Joy-
This group is new and caters for all our UCC brass players and interested percussionists. Players involved in rehearsals will be preparing for performances. This group is open to ALL brass and percussion players who have been playing for two terms or more. Mrs Joy will run this group. This activity is free of charge as it is funded through the Music Department. It takes place during the school day for 25 minutes – this activity will begin rehearsing just before the October half term break and will run seasonally. We will be working towards the Christmas concerts and other performances listed on the Music Department's Calendar of Events for 2017-18.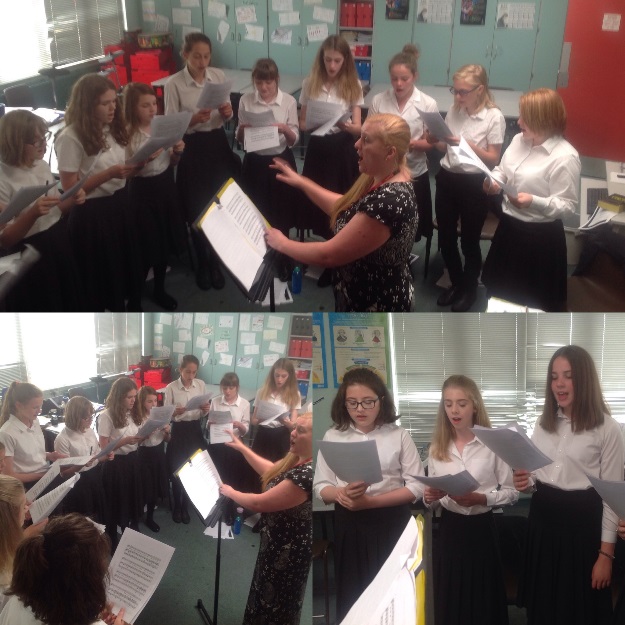 The Uppingham Stars' Choir – led by Mrs Joy-
This vocal group is new to UCC and rehearsals will run weekly by Mrs Joy. We intend to have around 40 plus dedicated members. On the lead up to major performances we will often rehearse across many lunchtimes and after school to polish songs to perfection. Our choir will be performing in a number of events including performances at the switch on of the Uppingham Christmas Lights, Open Evening and Awards Evening, including performances at St Peter and St Paul Church, Uppingham. We also will be working collaboratively with our neighbouring secondary schools and our feeder primary schools.
Sing – a – Solo -
This group is new and caters for all UCC singers interested in trying out solo vocal opportunities. Mrs Joy runs this group.
Rock School -
Come along and form a 'Rock Band' with other budding young musicians. This group is open to all students Grade 1+ on drums, guitar, vocals or keyboards. This group is run by Mr Wilson
The More Able
Within all lessons practical work is challenging yet differentiated for individual need. More able students are given challenge tasks within all project work to enable them to access higher level work. Students are encouraged to work independently, often bringing in their own specialist instruments and musical repertoire. In year 9 students are given the opportunity to experience GCSE style work.
In addition to the range of extracurricular activities on offer, we provide curriculum enrichment activities such as 'Orchestral Workshops', 'Samba Band', 'Singing Days', 'African Drumming', 'Instrumentalists' Days' and 'Music Technology Days' to stretch and challenge the more able.
Support
The department continues to benefit from a large number of instrumental teachers who visit the school on a weekly basis offering one-to-one and small group specialist instrumental lessons. There is a guitar/vocals/drums/keyboards group on offer to elected students who would benefit from learning an instrument who would not otherwise be able to access such opportunities through our pupil premium scheme.
Support is available in some lessons through the SEN department. Music teachers liaise regularly with teaching assistants, ensuring a high standard of learning is accessible for all students.
Student Leadership
Our young instrumentalists and vocalists are given the opportunity to support, mentor and coach our primary school instrumentalists and vocalists through collaborative work with our feeder primary schools.
In the classroom students support one another through: demonstrating and modelling work, encouraging each other to perform creating a safe and fun environment, peer assessment and being responsible for the learning environment.