Marquess of Exeter
How to earn your Michelin Star
On the 21st March we were lucky enough to have a visit from ex-student and Executive Chef at the Marquess of Exeter in Lyddington, Brian Baker. Brian had kindly offered to run a workshop for some of our most talented potential chefs and Design and Technology students in Year 10 and 11.
Brian spoke a little about his career path since leaving UCC way back when, then proceeded in setting a 'Ready, Steady, Cook' style challenge for the students using chicken, and a range of ingredients including goat's cheese and chorizo. The teams had to devise an inspiring dish from the ingredients then prepare it.
Meanwhile, Brian demonstrated how to 'prep' some common vegetables in professional style, moving swiftly on to showing the teams how to make a double cook cheese soufflé.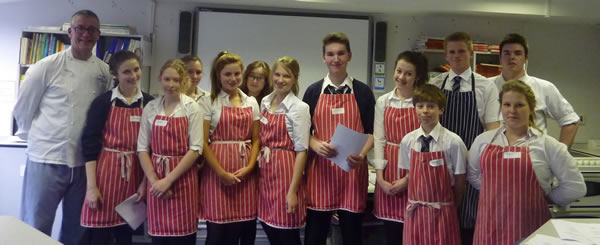 Whilst these were in the oven, it was back to the challenge, followed by another demonstration – this time the extremely popular chocolate soufflé.
All the students had a great time and had a real insight into the world of professional catering. They all said how much fun they had as well as learning a lot. They have requested more sessions like this. The winners of the Ready, Steady, Cook Challenge were Kate Grunwald, Ed Bell and Paige Bottomley with a dish of potato, cheese and onion rosti topped with herbed chicken breast and a watercress salad. They were the proud recipients of a complementary meal at the Marquess of Exeter!!