Chengdu Province in Sichuan
In May 2010 Mrs Turner visited China to set up a partnership called Chinese Bridge to UK Schools. The Partnership Schools in the UK are Uppingham Community College, Uppingham Chuch of England Primary School, Leighfield Primary School, Edith Weston Primary School, Bringhurst Primary School, Hallaton Primary School, Tugby Primary School, Primary School, Langham Primary School and CBEC Casterton Business & Enterprise College.
The symbol for the province is the Panda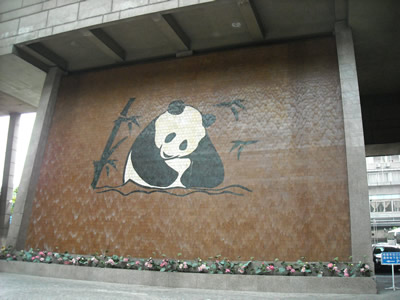 Chengdu located in southwest is the capital of Sichuan province and a sub-provincial city. Chengdu is also one of the most important economic centres, transportation and communication hubs in Western China. In 2007, Chengdu was chosen as one of the top ten cities to invest in out of a total of 280 urban centres in China.
The fertile Chengdu Plain, on which Chengdu is located, is called Tianfuzhi guo (in Chinese, which literally means "the country of heaven". It was recently named China's 4th most liveable city by China Daily.
Our partner school is HuaRun Middle School - Headmaster Yonghong Zheng.
Hua = China Run = Cultivation
It is a school set in the middle of the town and it was built in 1993. There are 1800 students Aged 12 -15 years. There are 60 students per class and they work in 36 Classrooms. Apart from PE and Dance all lessons take place in that room and the teachers move from class to class. They have specialisms in Arts and Sport.