Friday 9th October 2015
Dear Parents & Guardians,
I am very pleased to tell you that with all the remarks of the exams now concluded our GCSE results for 2015 have increased yet again to 68% A*-C including English & Maths, so we are significantly above the national average in many areas.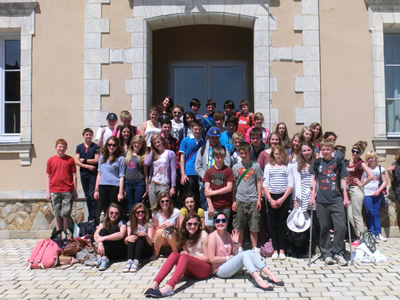 I am also delighted that our status as an International School continues to flourish as we have celebrated the European Day of Languages, prepared for the upcoming French Exchange and are welcoming our French visitors next week. Our partner school in China is now starting to prepare for students' exchanges, beginning with their students here next year and then hopefully our students visiting Chennai in the not too distant future!
Thank you for your forbearance with our unexpected closure on Wednesday. It was due to a burst water main in Lyddington and the water supply was not restored to the college until early evening. Unfortunately we cannot open the school without any water or sanitation facilities but, as we were not informed of the problem until after 7-30am, it was a logistical problem to inform all parents as many students had already begun the journey to school. I apologise for any inconvenience caused. However it has prompted us to send our 'Emergency Closure procedures' letter out earlier than usual – this would normally come out after half term. Hopefully we won't need it but please read it carefully and keep it to hand [see attached]. Text messages and emails were sent to advise parents of the closure - please let student services know if you did not receive a message so we can update our records with any mobile phone/email address changes.
We are currently experiencing problems with Parent Gateway. Our provider is looking into this and hopefully the problem will be solved shortly, we apologise for any inconvenience this may be causing.
May I remind all parents to report any absences for students in one of the following ways (even if you have emailed the tutor):
Tel: 01572 823631 - Press 1
Text: 01572 842008
Email: absences@ucc.rutland.sch.uk
The following information is required in a message - students name, tutor group and the specific reason for absence. Parents/Carers are asked not to make appointments/arrangements for a student to be absent during the College day unless unavoidable and the school has been notified.
Jan Turner
Principal
Highlights for next week
WEEK TWO
12/10 Hallaton & North Luffenham Year 6 pupil visit
13/10 French Exchange Parents' Evening
13/10 Governors Community & Partnership Meeting
14/10 Spanish Exchange arrive
16/10 Spanish Exchange Social Evening
16/10 End of term