New Principal for Uppingham Community College
Uppingham Community College (UCC) has appointed its next Principal. Ben Solly will join UCC in the summer when the college's current head, Jan Turner, retires after a decade leading the school.
Mr Solly, currently Head Teacher of Lutterworth College in Leicestershire, was among more than a dozen applicants from across the UK and from abroad. He was selected after a rigorous two-day interview process.
Geoff Thompson, chair of UCC's governing body, said: "Mr Solly impressed the governors with his energy, enthusiasm, knowledge, experience and rapport. We look forward to working with Ben over the coming years, including our centenary in 2020.
"Governors involved staff, students and a local primary head in the interview process and Ben was the preferred candidate in each case. He demonstrated strong leadership, good communication skills and intends to become very involved within our community."
Mr Solly, who will take up his new post in August, has led Lutterworth College since 2014 during years when it has achieved its best-ever GCSE and A-level results.
He said: "I am delighted to be joining Uppingham Community College as Principal in August.
"I was hugely impressed with the school during my 2 interview days and it is very clear Jan has done an incredible job here over the past 10 years.
"I am looking forward to building on these excellent achievements by working with the staff at the school to ensure we deliver a first class education for the students."
Towards the end of 2016, Jan Turner announced her intention to retire at the end of the current school year.
Jan said: "Although I shall be very sad to leave UCC I am very pleased to be handing over to such a well-qualified and experienced colleague as Ben Solly.
"I have been privileged to work with so many outstanding students, staff and governors during my time at the college and I am very proud of all we have achieved together.
"The school has grown in many ways over the last ten years but I am delighted that we have maintained our unique community ethos - both within the school itself and in the wider society of Rutland."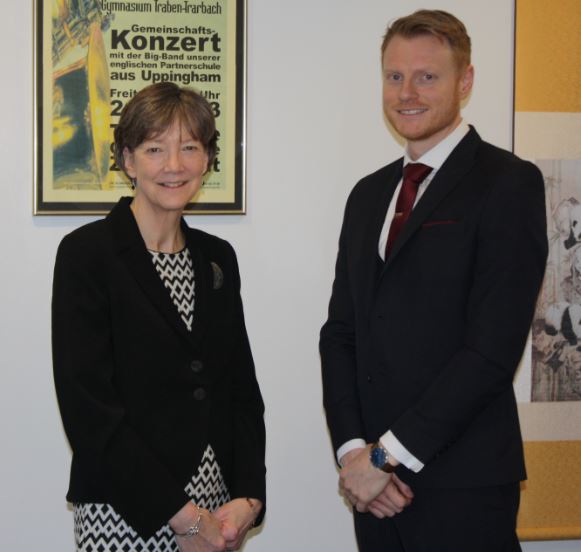 Photo: UCC Principal Jan Turner with her appointed successor Ben Solly