Year 11 student Abigail Lovering speaks at House of Commons
We are extremely proud of our Year 11 student Abigail Lovering, as she got to speak and represent Rutland in the House of Commons on Friday 11th November, as a member of the UK Youth Parliament for the MYP (Middle Years Programme). They were discussing and debating a range of topics including, accessible public transport, racist & religious discrimination & votes for 16/17 year olds.
The Middle Years Programme (MYP) emphasizes intellectual challenge. It encourages students aged 11 to 16 to make practical connections between their studies and the real world, preparing them for success in further study and in life.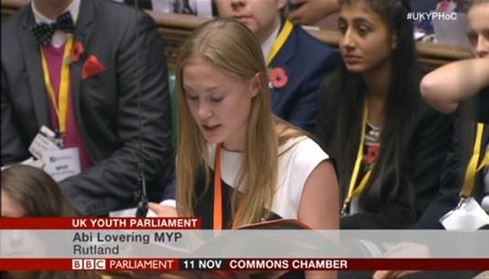 Abi is currently studying for her GCSEs and said of the experience: "I found speaking in the House of Commons an incredible experience. It was very nerve-racking however an amazing feeling of pride and achievement after I had spoken.
I feel so lucky to have had this opportunity and I hope to experience something similar to this again in the future."
What an amazing achievement, and definitely something to look back on as you further your studies. Well done Abi and all students who attended that day.