Jonny Wilkinson inspires UCC students on and off the rugby pitch
On Thursday 10th November some of our students were treated to a once in a lifetime experience, taking part in a rugby master class with World Cup winner and Sky Academy Ambassador Jonny Wilkinson.
The school won this opportunity after taking part in the free Sky Academy programme; 'Sky Sports Living for Sport', which uses sport as a tool to inspire young people. The school have been involved in 'Sky Sports Living for Sport' since 2012 and use the project to inspire and improve confidence in groups of students involved in the College's extra-curricular programmes.
This year the College ran a project to start an U13 Girls Rugby team, having set up a successful U15 Girls team the previous year. It was therefore extremely fitting and beneficial for the girls to attend the master class with Jonny and benefit from his advice and experience.
Speaking after the master class, Jonny said: "I really enjoyed meeting the girls from Uppingham Community College today. They showed a great passion for rugby and I can see how taking part in 'Sky Sports Living for Sport' has benefited them. I'm so proud to be part of Sky Academy and wish the girls much success as they continue to develop their skills both on and off the pitch."
During the day the girls also spent some time with 'Sky Sports Living for Sport' Athlete Mentors. Thinus Delport, who played rugby for South Africa, and Wales rugby international Philippa Tuttiett, spent time with the girls, inspiring them through their own journey to success stories. Thinus and Phillipa are part of the team of over 135 world-class Athlete Mentors, who visit schools for free as part of 'Sky Sports Living for Sport.'
Rob Lewin, UCC Student Activities Coordinator described the day, "It was an unbelievable opportunity for our girls to meet and be coached by these incredibly successful athletes. The whole day was based around enjoying sport and not being afraid of making mistakes. The mentors were incredibly humble about their own success and were totally focussed on ensuring the girls had the best day possible".
Two members of the team, Amelie Ryan and Olivia Hill also had a unique experience when they got to interview Jonny Wilkinson on camera as part of the Sky Academy which will be broadcast in the coming weeks.
'Sky Sports Living for Sport' is delivered in partnership with the Youth Sport Trust. Since its launch in 2003 almost half a million young people have taken part. The programme is available to all secondary schools in the UK and Ireland and it's free to take part. To sign up schools please should visit www.skysports.com/livingforsport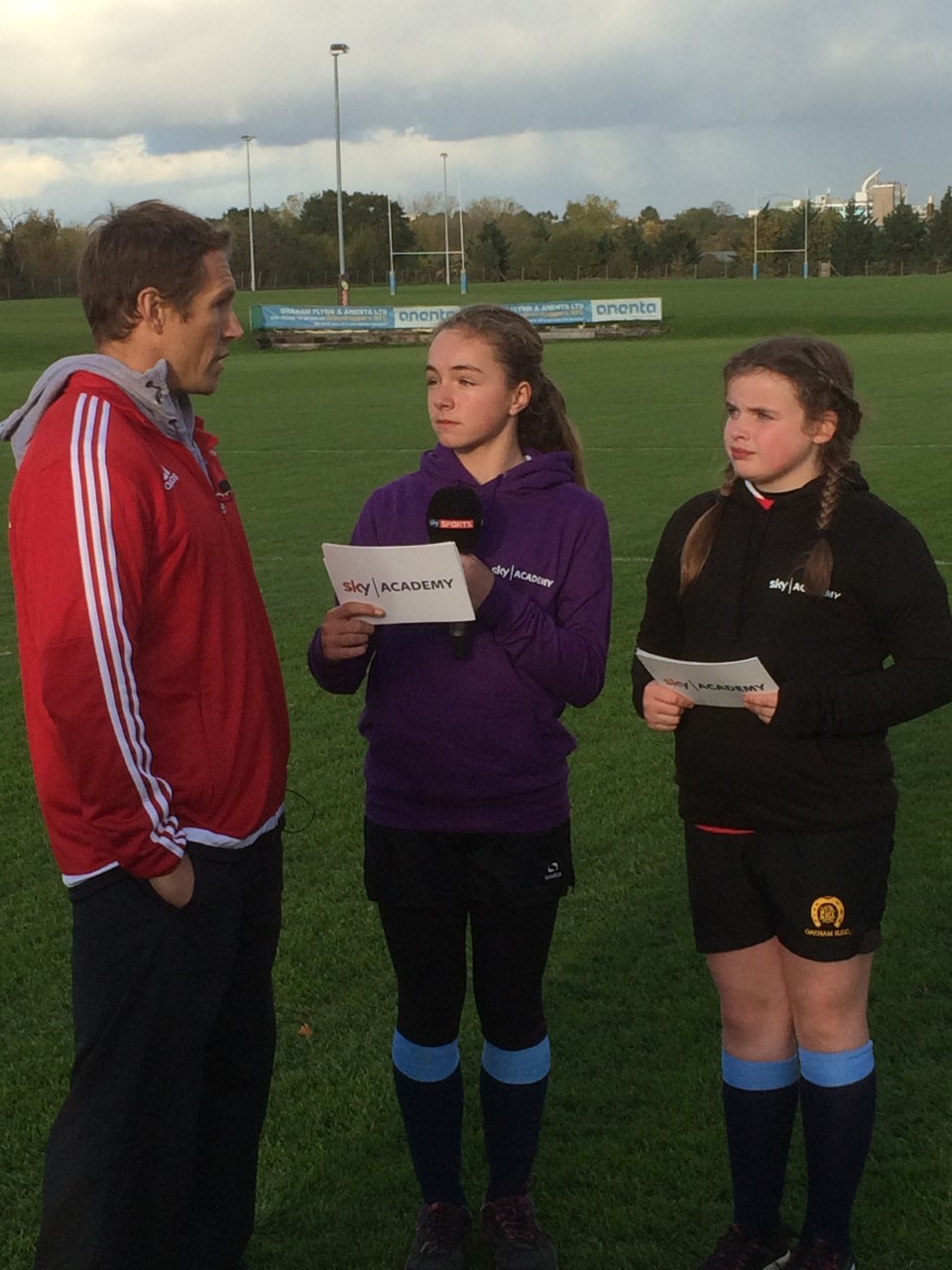 UCC Students, Amelie Ryan and Olivia Hill interview Jonny Wilkinson