Leadership Academy Status
We are delighted to announce that the college has been recognised as a national specialist centre of excellence with 'Leadership Academy Status'. This is in recognition of all the hard work our staff and young sports leaders do to promote sport in the college, in the primary schools and in the local community.
The 'Leadership Academy' initiative is a scheme to reward and recognise some of Sports Leaders UK's best Approved Assessment Centres who "go beyond the call of duty". The category has been launched to recognise the impact that exceptional centres can have on their local communities as well as their own Sports Leaders.
UCC has qualified for the academy status by showing its capability and courage to challenge accepted practice, and offering students a diverse range of extra-curricular opportunities. Schools that are recognised for the status are those who demonstrate good practice for organisations in their local area. "Leadership Academies have a very positive impact on the local community with regards to increased voluntary hours, community placements and events." (association.sportsleaders.org.uk)
On Wednesday 21st September, our Director of Academy Sport, Mr Tom Bourne, was presented with the award plaque by Sports Leaders UK Partnerships Manager, David Savidge.
David said "Being a father of young children myself, I am really passionate about what schools children attend and how the teachers have an effect on them. Teachers are really important. I would genuinely love for my children to attend a school like UCC, with teachers like Mr. Bourne making such a positive impact on them." This is a fantastic compliment, and amazing feedback for one of our schools many great teachers.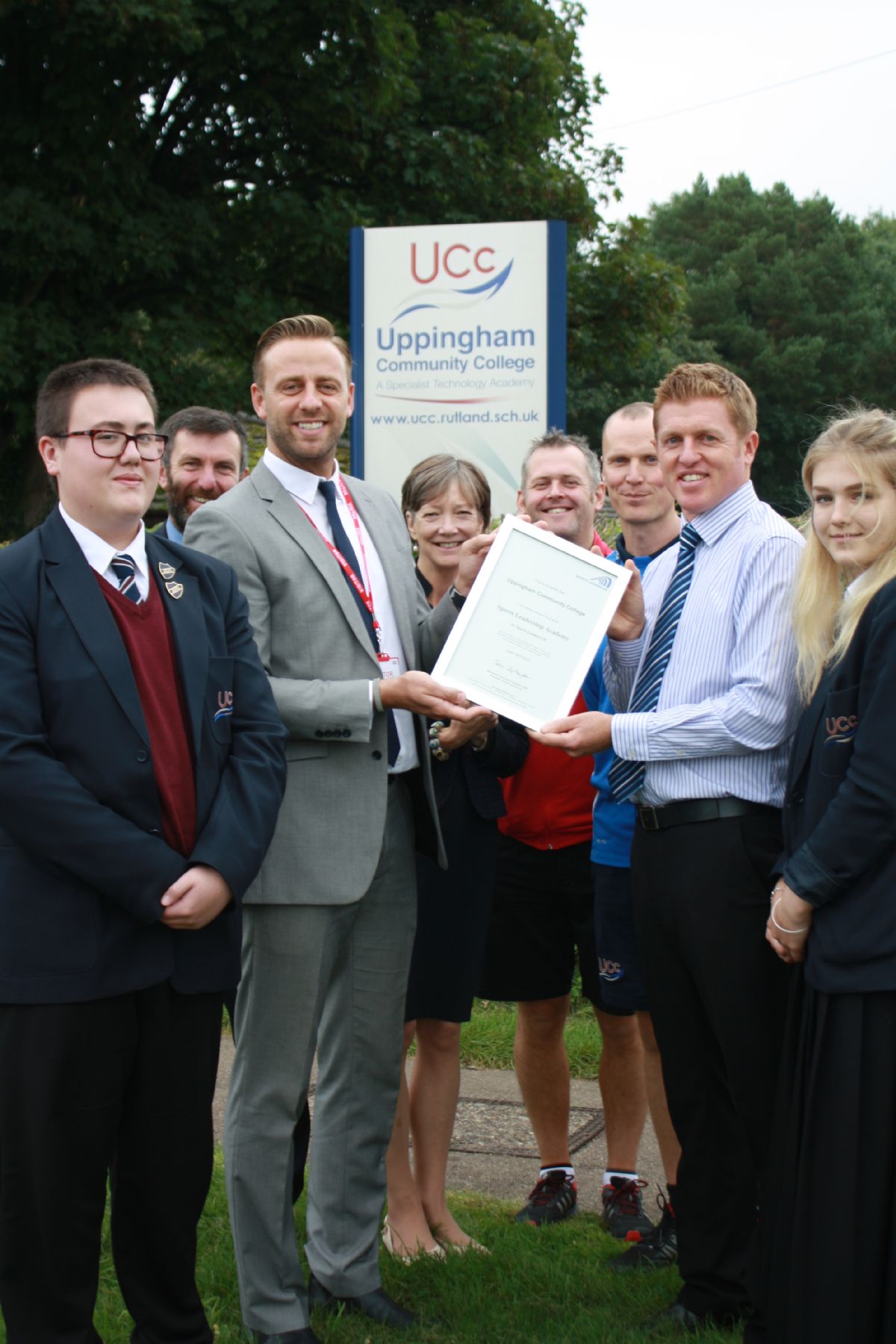 Along with the Sports Leaders UK representatives, David Wilby, who is Rutland County Council's 'Portfolio Holder for Lifelong Learning', also attended the award presentation. He spoke of how impressed he is with the Sports Leadership UK programme and the way in which UCC has adapted it, mentioning "the importance of diversity and leadership skills available to students". He also congratulated our two representative Sports Leaders students, Michael McGinty and Georgia Lorentzen.
We are very proud to have earned such a prestigious award.
Well done to all of our teachers and students who were, and continue to be involved with Sports Leaders UK.
(PICTURE From L-R. Student: Michael McGinty, Governor: Andy Gilgrist, SLUK Partnerships Manager David Savidge, Principal: Jan Turner, Chris Thomas, Student Activities Coordinator: Rob Lewin, Director of Academy Sport: Tom Bourne and Student: Georgia Lorentzen.)