Teddy makes Top 17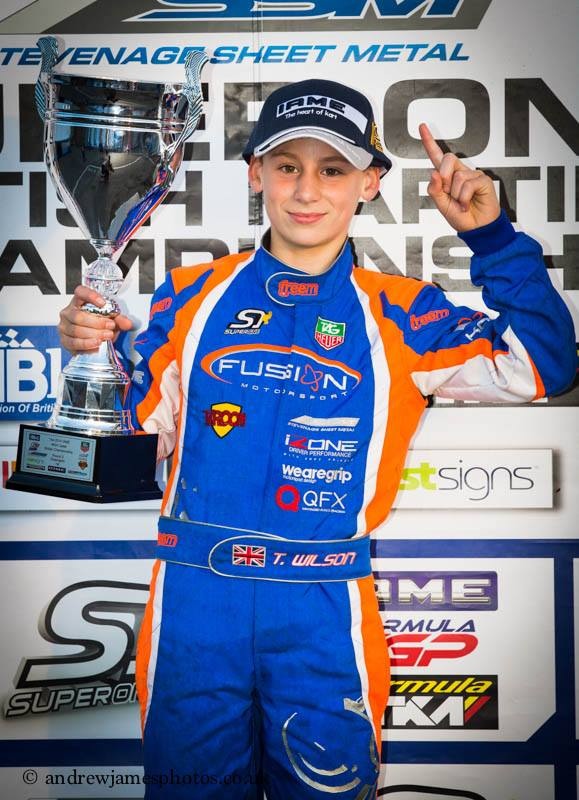 Fourteen-year-old Rutland kart racer Teddy Wilson finished in 17th place in his first CIK-FIA Karting World Championship at the weekend. Held at La Conca in Southern Italy, his KF-Junior (KFJ) category was the most hotly contested race of the season with 102 driver entries from around the world.
"I was extremely disappointed with 17th in the Final. The qualifying and heats didn't go as planned, putting me out of contention. I was really hoping for a top five finish," explained Teddy.
Racing with Italian team Strakka Bhai Tech, Teddy's qualification lap was not as fast as he'd hoped when he got held up in traffic during the session. He qualified a disappointing 43rd overall which resulted in 15th place on the grid for all of his five heats. Teddy drove strongly in all of the incident-packed races gaining places each time. However, he was given a 10-second penalty for an incorrectly positioned front fairing caused by contact during the race in heat one. Then in heat four he was knocked off the track while in ninth, two laps from the end, and limped home in 30th place. These two incidents impacted heavily on his overall results. With only 68 grid positions available for the Pre-Finals, a decision was made to use his last new set of tyres in heat five to give him the best chance of qualifying. Teddy achieved a seventh place in heat five, putting him in 52nd place overall.
"With a grid position of 26th out of 34 drivers in my Pre-Final, and a second full grid of 34 drivers in the other Pre-Final, at this point I wasn't even sure if I'd make the top 34 to qualify for the all-important Final," Teddy revealed.
Despite the pressure, Teddy put in an incredible performance to fly through the field and gain 12 places to finish 14th in his 13-lap Pre-Final. This secured him 28th place on the grid for the Final.
With no new tyres available to use in the Final, a slightly disadvantaged but undeterred Teddy made the best of his set-up and situation. Another consistently strong performance saw him move up through the field, finishing in 17th position in his first World Championship.
Teddy said, "Even though I was disappointed with my overall placing, I was very pleased with my performance, especially in the difficult Pre-Final and Final races. It was a good comeback but I am determined to be challenging for top spot next year!"
American driver Logan Sargeant took the 2015 KF-J World Championship crown, with French driver Clément Novalak and Brazilian driver Caio Collet taking second and third on the podium respectively.