Extra-curricular Newsletter w/c 6th November
Extra-Curricular Weekly Newsletter
Friday 3rd November 2017
Duke of Edinburgh's Bronze Award
Year 9 Introduction Evening
We are holding an Introduction Evening on Tuesday 28th November, between 6.30pm – 8.00pm in the Drama Studio. This is an opportunity for Year 9 students and parents who are interested in signing up for the DofE Bronze Award to find out all the details involved. At the evening we will explain:
· What is the Duke of Edinburgh's Award
· The four sections of the Bronze Award
· The cost of enrolling on the programme
· The cost of the different activities we can offer at UCC
· The cost of Expeditions offered by external providers
Trampoline Competitions
There are two trampoline competitions coming up in the Autumn 2 term that we can enter. The first is our annual Varsity Competition on Wednesday 13th December. The second is the Regional Schools Championships that takes place on Sunday 10th December. If any students are interested in entering these competitions please contact Mr Lewin for further details.
Corby Hockey Club
Corby Hockey club has recently reformed and are now holding training sessions for 12-16 year olds. Sessions run Thursdays from 5.45pm – 6.30pm at Corby Business Academy. First 2 sessions are free.
For details visit: www.pitchero.com/clubs/corbyhockey Twitter: @corby_hockey
DON BOSCO HOST FAMILIES NEEDED
Thank you to all the families that have already signed up for the Don Bosco Exchange in 2018. We've had a great response from the Year 8 students and we are now targeting host families in Years 9, 10 and 11.
The exchange runs from Monday 2nd April – Friday 6th April 2018.
If you are able to offer accommodation for one of our travelling guests please contact Mr Lewin to receive full details. Hosting in 2018 also guarantees students a place on the exchange when we travel to Belgium in 2019.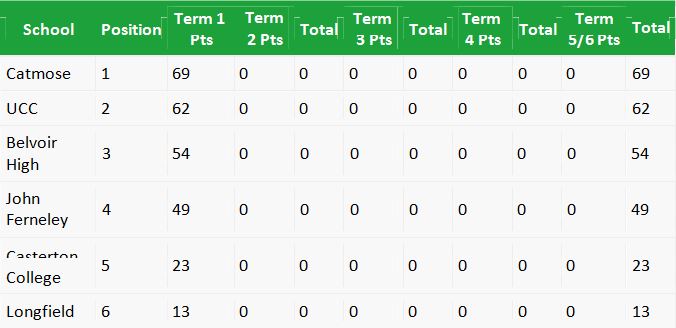 At the end of Term 1 we are currently second in the Rutland & Melton Varsity Cup. Our standout teams were the Year 9 Netball team and U16 Boys Table Tennis team who won their competitions last term.
Autumn Term 2 sees our teams compete in Basketball, Handball and Trampolining so good luck to all our students who will be representing the college.
Mr Lewin
Student Activities Coordinator
E-mail: Lewin_R@ucc.rutland.sch.uk